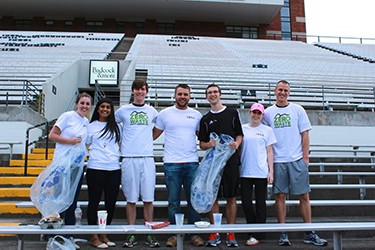 Appalachian State University and the Walker College of Business are committed to working toward a more sustainable future, and a zero-waste stadium is part of the effort.
The International Business Student Association (IBSA) is working to further the initiative through a stadium clean-up this year and is seeking volunteers to help with the job.
Volunteers will sort waste produced during the game into recycling, compost and landfill in order to reduce Appalachian's impact on the environment.
Volunteers can sign up at ibsa.appstate.edu or contact IBSA advisor Shannon Creighton, creightonsb@appstate.edu.
Zero waste initiatives reduce the university's impact on the environment, increase awareness of personal waste stream, reduce unnecessary and wasteful purchasing, increase recycling revenues while reducing landfill fees, increase effectiveness of waste handling and housekeeping processes and educate our students and community members in environmental stewardship.
IBSA receives funding for their work. Proceeds will support study abroad scholarships.
Kidd Brewer Stadium has the infrastructure in place to support zero waste in the stadium, and through thoughtful purchasing decisions, reducing consumption and increasing recycling/composting, Appalachian is drastically reducing what is sent to the landfill.
Appalachian has committed to a 90% landfill diversion by 2022.