Industrial-Organizational Psychology and Human Resource Management (IOHRM) presented their experiences in summer internships to the faculty and first years students on Appalachian State University's campus on Sept. 7. The internships, located across the country in locations including Michigan, Louisiana, Ohio, Illinois and North Carolina, offered relevant business experience to students entering their second year of the two year program.
The students provided information about the internship placement process, the projects they worked on, the initiatives they developed and share insight about interviews with senior company member.
The students were: Troi Robinson-Moss (Sealed-Air), Carson Sells (Inmar), Kirsten Montanari (The Leadership Effect), Trevor Fedeson (ConvaTec), Lauren Ferber (United States Air Force), Annie Jankura (KeyBank), Sydney Kopelic (Bank of America), Taylor Lemker (ATI Specialty Materials), Ryan Lagan (Rockwell Collins), Katie Maness (TIAA), Amber Portier (Lafayette General Health), Hannah Costello (Shurtape Technologies) and Megan Waite (La-Z-Boy).
About Appalachian's IOHRM Program
Appalachian's Industrial-Organizational Psychology and Human Resource Management (IOHRM) program offers an interdisciplinary Master of Arts degree through the Departments of Psychology in the College of Arts & Sciences and Management in the Walker College of Business. Students receive specialized training in human resource management with emphases on developing knowledge of theories, methods and research findings derived from the behavioral sciences. The degree prepares graduates for work in business, industry and government, where they will address organizational activities such as selection, placement and motivation of employees, training and development, performance appraisal, and development and change of organizations.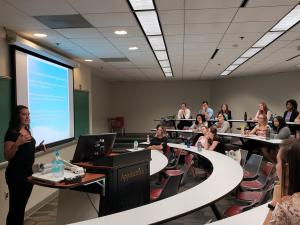 Tags: