Industrial-Organizational Psychology and Human Resource Management (IOHRM) students and faculty members from Appalachian State University recently attended Duke University's Sustainable Business and Social Impact (SBSI) Conference.
The Feb. 8, 2020 event provided a forum for leaders in the private, public and non-profit sectors about some of today's most salient social and environmental issues, and what their respective organizations are doing to tackle them. It was the 15th annual SBSI event.
Related: Appalachian students, faculty members attend Sustainable Business and Social Impact Conference
About Sustainable Business at Appalachian
Appalachian's Walker College of Business is committed to advancing sustainable business practices that promote responsible management of economic, social and natural resources. The theory and practice of sustainable business recognizes that the economy, environment and society (the triple bottom line) are interconnected and interdependent, and strives to enhance the business model so that it can flourish and thrive to benefit future generations. The college offers a sustainable business minor available to business and nonbusiness majors, a bachelor's degree in environmental economics and policy, and an MBA concentration in sustainable business. The programs focus on student engagement, research and community involvement. For more information, visit business.appstate.edu/sustainability.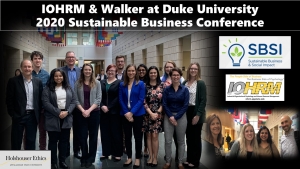 Tags: