Friday, October 2, 10:00 a.m.
Appalachian State University's Walker College of Business will host the 62nd Boyles Distinguished Lecture featuring Mr. Jose Minaya, CEO of Nuveen, a TIAA company, on Friday, October 2 at 10:00 a.m.
The virtual, 45-minute event will include comments by Mr. Minaya, followed by an opportunity to ask questions and have discussion with Mr. Minaya.
The event is open to the public and a special opportunity for Appalachian students to interact with a financial strategist and visionary, a diversity and inclusion champion, and a sustainable business leader.
Register
This talk is free and open to the public, but all participants must register to receive a meeting link. Register or learn more at business.appstate.edu/boyles.
About Mr. Jose Minaya
Mr. Minaya oversees all operating and investment activities for more than $970 billion in assets spanning the globe and covering equities, fixed income, real estate, private markets, natural resources, other alternatives and responsible investments. Mr. Minaya also chairs the Nuveen global investment committee and is a member of the firm's executive committee. Previously, he was president of TIAA Global Real Assets, where he had responsibility for all business activities and strategic direction across real estate, agriculture, timber, infrastructure, energy and alternative credit strategies.
Mr. Minaya has more than 24 years of investment experience, including positions at AIG Global Investment Group, where he helped drive emerging markets equity transactions, and the investment banking groups at Merrill Lynch and JP Morgan, where his responsibilities included mergers and acquisitions and private equity transactions. He holds a B.S. in finance from Manhattan College where he was a member of international economics honor society Omicron Delta Epsilon, and an MBA from Dartmouth College's Amos Tuck School of Business, where he was a Robert Toigo Fellow. Mr. Minaya currently serves on Dartmouth's Tuck School of Business MBA Council.
Mr. Minaya is a distinguished recipient of the 2016 Toigo Blazing Trails award for his demonstrated commitment to the education and leadership of the next generation of financial-services talent. He is also chairman of the UNITE Employee Resource Group to advance the success of the firm by providing recognition, development and networking opportunities with a specific focus on employees of Latino/Hispanic heritage. He is a recognized expert on real assets investing and is frequently sought after by the media and industry events for his perspectives and insights on the asset class.
About the Boyles Distinguished Lecture Series
The Harlan E. Boyles Distinguished Lecture Series began in 1988, and the series is named for the late North Carolina State Treasurer Harlan E. Boyles. Treasurer Boyles was a model for industry, hard work, and integrity. View a complete list of past speakers.
About the Walker College of Business
The Walker College of Business at Appalachian State University delivers transformational educational experiences that prepare and inspire students to be ethical, innovative and engaged business leaders who positively impact our community, both locally and globally. The college places emphasis on international experiences, sustainable business practices, entrepreneurial programs and real-world applications with industry. Enrolling approximately 3,000 undergraduates in 10 majors and 175 graduate students in three master's programs, the Walker College is accredited by AACSB International – the premier global accrediting body for schools of business. Learn more at https://business.appstate.edu.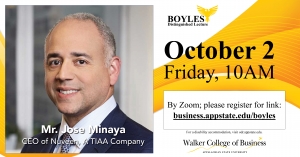 Tags: