Appalachian State University's Student Government Association has named professor of Risk Management and Insurance Karen Epermanis the Outstanding Professor in the Walker College of Business.
The award was presented on April 5 during the 2017 Faculty and Staff Appreciation Breakfast in the Plemmons Student Union on Appalachian's campus.
"Appalachian's student body is lucky and thankful to have such incredible and hardworking individuals at the helm of its ship," said Student Government Association Director of Academic Affairs Travis O'Shell.
According to a student nominator, Dr. Epermanis consistently introduces students to industry professionals through class presentations and extracurricular opportunities and is dedicated to helping her students begin successful careers after graduation.
A professor in each academic college was honored during the April 5 event. In addition to Dr. Epermanis, recipients included: Joy James, Beaver College of Health Sciences; Christopher Patti, College of Fine and Applied Arts; Bair Shagdaron, Hayes School of Music; Jeff Goodman, Reich College of Education; Rick Elmore and Kevin Mullinix, College of Arts and Sciences.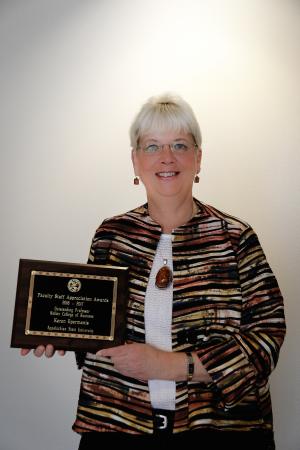 Tags: