Seven faculty and four staff members at Appalachian State University were honored for excellence at the Fall Semester Faculty and Staff Meeting Sept. 7 in the College of Education Building.
Dr. Darrell Kruger, provost and executive vice chancellor, recognized the recipients of the teaching awards, saying, "These persons have been singled out as representatives of the excellent professional work carried on by the faculty across our campus."
Among those honored was Walker College of Business management professor Dr. Rich Pouder who earned a UNC Board of Governor's Appalachian State University campus teaching excellence award.
Chosen by a selection committee, Pouder -- along with Dr. Gabriele Casale, associate professor, Department of Geological and Environmental Sciences; Dr. Katrina "Trina" Palmer, professor, Department of Mathematical Sciences; Dr. Susan Staub, professor, Department of English; and Dr. Thomas Whyte, professor, Department of Anthropology -- earned $1,000.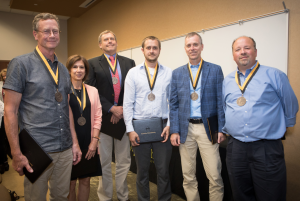 Tags: