Dr. Lubna Nafees, an associate professor of marketing in Appalachian State University's Walker College of Business, has been named a recipient of a 2020-2021 New Best Seller Award by Ivey Publishing.
Dr. Nafees earned the award for a case study she co-authored entitled "IKEA India: Expanding to Success." According to the publisher, case studies engage students and provide opportunities for instructors to deliver key concepts.
Ivey's annual awards recognize the work of authors during the previous academic year (May 1, 2020 – April 30, 2021).
"Your case demonstrates both a commitment to your students and to the advancement of business education as you share opportunities to teach with instructors worldwide," said Communications Specialist Callum Hughson to Dr. Nafees on behalf of their colleagues at Ivey.
View the full list of winners.
About the case IKEA India: Expanding to Success
In May 2017, IKEA India's chief executive officer (CEO) was facing a dilemma. The company had decided to start its business operations in India by opening an experience centre in Hyderabad in November 2018, followed by furniture retail outlets across India by 2025. Key target segments were young, middle-class price-conscious consumers. IKEA India aimed to sell its products at a low price, aligning with its vision. However, the CEO was challenged with developing a strategy for business growth at a time when major global retailers were going bankrupt. He needed to figure out the appropriate pricing and supply chain strategy for India's complex and diverse environment, while offering value to consumers. The case deals with value creation, consumer behaviour, marketing strategy, supplier selection and relationship management. Learn more.
About the Department of Marketing and Supply Chain Management
At Appalachian State University, students in the Walker College of Business' Department of Marketing and Supply Chain Management learn to drive industry initiatives that develop customer satisfaction and retention, contribute to company profits and build connections with suppliers, distributors and the community. Students majoring in marketing may select a concentration in general marketing, digital marketing or sales. Students majoring in supply chain management (SCM) learn about logistics, operations, strategic sourcing, process improvement strategies and supply chain technologies, enabling them to compete in the global marketplace and help future employers reduce costs, improve profits and expand their markets. Learn more at https://marketing.appstate.edu.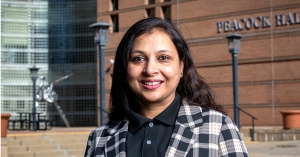 Tags: