Appalachian State University's Pia Albinsson, a professor in the Department of Marketing and Supply Chain Management, was recognized as the 2021 Society for Marketing Advances (SMA) Distinguished Fellow during the SMA Annual Conference Nov. 3-6.
"This is an immense honor to be inducted into this elite group, not every year is someone selected," said SMA President and associate professor of marketing at Ball State University Rebecca VanMeter. "This honor is bestowed on individuals who have an outstanding research and service record. We are so honored to have Pia as our most recent inductee."
The SMA established the honorary designation of "SMA Fellow" in 1979 to recognize a very limited number of scholars in light of their exemplary service to the society and their significant scholarly contributions to the advancement of marketing thought over a sustained period of time. By later action of the Board of Governors (BOG), the designation title changed from "SMA Fellow" to "SMA Distinguished Fellow," and selection is based on the recommendation of an SMA Distinguished Fellows Nominating Committee and subsequent affirmation by the SMA BOG.
"I am so incredibly honored and excited to have my service to SMA and my research contributions recognized," said Albinsson.
Albinsson is the Beroth Professor of Marketing and the WCOB Dean's Club professor in the Walker College of Business, where she has been teaching since 2009. She is a past recipient of the Walker College's Sywassink Award for Excellence in Research, and her research interests are in the areas of collaborative consumption, green consumption practices, consumer activism, corporate social responsibility and advertising effectiveness.
About the Department of Marketing and Supply Chain Management
At Appalachian State University, students in the Walker College of Business' Department of Marketing and Supply Chain Management learn to drive industry initiatives that develop customer satisfaction and retention, contribute to company profits and build connections with suppliers, distributors and the community. Students majoring in marketing may select a concentration in general marketing, digital marketing or sales. Students majoring in supply chain management (SCM) learn about logistics, operations, strategic sourcing, process improvement strategies and supply chain technologies, enabling them to compete in the global marketplace and help future employers reduce costs, improve profits and expand their markets. Learn more at https://marketing.appstate.edu.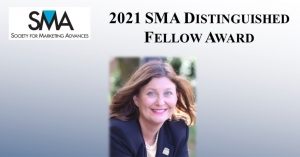 Tags: