Strolling the Malecón in Havana, Cuba, it feels as if the city has been frozen in time. Pristine 1950's classic cars cruise beside this famous seaside walkway against the backdrop of Havana's worn colonial architecture, looking like a postcard from the past. But for Cubans, the present moment is a dynamic one and students of the Walker College of Business have had the opportunity to experience this first-hand.
This year, fourteen students participated in the third annual Walker College of Business Program in Cuba. The itinerary included visiting sites in Havana, Cienfuegos and the Bay of Pigs and attending lectures at the Center for Research of the Cuban Economy (CEEC), where University of Havana economists provided historic and economic context for Cuba's current situation.
Over fifty years after the revolution, Cuba's command economy is in the midst of change, with increased room for self-employment and cooperatively-owned business becoming a part of its structure. Meanwhile, the US embargo of Cuba is still in full effect, limiting US-Cuba travel and trade in ways that impact both economies and relationships between these countries.
"The faculty-led program to Cuba is unique among our programs because Cuba's economic and political structure, and the external constraints under which it operates, are unlike any other country in the world," stated Dr. Martin Meznar, Associate Dean of International Programs in the Walker College of Business.
Dr. Ben Powell, Assistant Professor of Management in the Walker College of Business, appreciated experiencing this moment in Cuba. "Cuba's evolving transition from a purely socialist economy to a more market-based system is fascinating," he states. "The opportunity to observe this transition so early in its development was a once in a lifetime opportunity for me. For the most part, this change seems to be emerging from within Cuban society. I enjoyed interacting with some of the new entrepreneurs who are blazing new trails for Cuba."
Beyond observing the economic and political environment, the students who participated also enjoyed connecting with the Cuban people. As Lisa Davis noted, "What touched me most was the interest people had in us as American students and their eagerness to share their experiences and understand our lifestyle and interests given our background. I see many positive steps being taken to improve living conditions and the economy so I am optimistic that over time, Cuba will become more of a valuable player in the global economy."
Students from this year's program in Cuba will be presenting on their research and experiences at the Global Symposium on Wednesday, November 20th from 12:35-1:45 pm. The Walker College of Business plans to return to Cuba next fall break with another group of students. For those interested in participating in the 2014 Faculty-led program in Cuba, contact Meredith Church at churchmm@appstate.edu.
Additionally, the 2014 Global Opportunities Conference on April 11th, hosted by the Walker College of Business, will discuss "Cuba Today."
To see a photo gallery from this year's faculty-led program in Cuba, click here.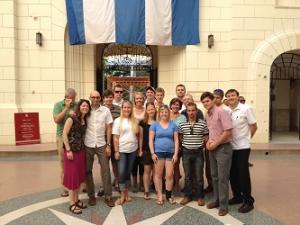 Tags: