Aneisy Minerva Cardó has earned Appalachian State University's Graduate Student Global Leadership Award for 2018.
Cardó, an MBA student in the Walker College of Business, is one of five students, faculty and staff members who were honored during the university's Global Leadership Awards Luncheon on November 14, 2018.
The awards recognize those who have made extraordinary contributions to global learning by initiating, developing and/or supporting opportunities for global learning at Appalachian and in the community. The 2018 ceremony was the seventh annual and took place in conjunction with the Appalachian Global Symposium.
Cardó is also pursuing her MA in Higher Education at Appalachian and serves as assistant director of admissions for Hispanic and international recruitment. In addition to working full time while pursuing two graduate degrees, she also served as a facilitator of Intersect, a social justice retreat at Appalachian, a program assistant with Summer Ventures, vice president of the National Latin Sorority, and is a founding member of Appalachianos, a Hispanic/Latino faculty and staff association. Cardó has previously served as a member of the chancellor's student advisory board for diversity recruitment, president of the Hispanic Student Association, and secretary of International Pals (iPals), and a Linking Education and Diversity (LEAD) guide and mentor.
Others honored at the event include Dr. Garner Dewey (Staff Award), Dr. Renee Scherlen (Faculty Award), Murillo Artese (Undergraduate) and Arley Rodriguez (Local to Global Award).
Read the complete article at international.appstate.edu.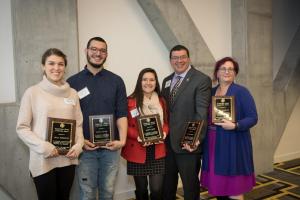 Tags: