Appalachian State University graduate students traveled to North Charleston, SC April 14 to learn about Boeing's human resources, supply chain management and business operations.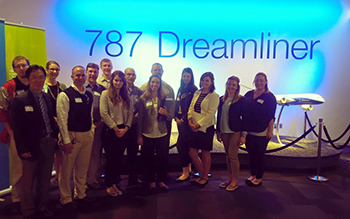 The students, members of the Walker College of Business Executive Impact Club-the student organization of Appalachian's MBA Program, toured the 57,920-square-foot facility and met with with Boeing's HR Management team, Director of Supply Chain Operations for the 787 Dreamliner, VP of Supply Chain Operations in Charleston, and the Director of Educational Outreach for the Charleston Division. The center, which opened in 2011, is an assembly site for Boeing's Commercial Airplanes division responsible for major manufacturing, assembly and delivery of Boeing commercial aircraft in the eastern United States.
"We are so appreciative of Boeing for organizing an informative and inspirational tour," said Computer Information Systems / Supply Chain Management Lecturer and club advisor Darin Hodges. "Our students were given invaluable insight into hiring and training practices at Boeing, and a general understanding of how supply operations work at the Charleston Division."
Presentations were held in the Final Assembly building overlooking the assembly of eight 787 Dreamliner totaling $4 Billion in working capital. Boeing is one of the largest employers in the state and is one of two final assembly and delivery points for the Boeing 787 Dreamliner. The site has seen rapid investment and growth since Boeing made a number of purchases in 2008 and 2009 from its former suppliers Vought and Global Aeronautica, which had factories in South Carolina. One aircraft rolls out of the assembly building every 6 days. The 787 Dreamliner requires more than one million parts from 300 Tier 1 suppliers and thousands of smaller Tier 2 and 3 suppliers.
Executive Impact provides opportunities for professional growth to the community of MBA students at Appalachian State. These experiences include networking, learning and hearing from local professionals, anticipating in intramural sports, and serving the community through service projects. The club promotes integrity, philanthropy, insight, networking and balance; learn more about Executive Impact.
The club hopes to return to the Charleston facility and continue the conversations and learning at Boeing. "The visit was a unique and exciting opportunity," said Hodges. "We hope this is the beginning of a relationship that will benefit Appalachian students well into the future."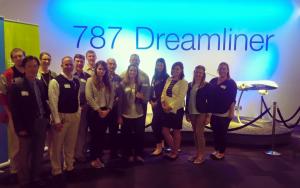 Tags: