Veronica McCurdy ACC '22, an M.S. Applied Data Analytics student in the Walker College of Business, presented her research "Scaling Forest Carbon Programs," as part of the eleventh annual 3 Minute Thesis (3MT) competition on Friday, October 28, 2022.
Related: Read about the winners and other finalists at cas.appstate.edu.
McCurdy, whose studies are concentrated in sustainability analytics, was advised by Dr. Tammy Kowalczyk, professor in the Department of Accounting.
A member of Pi Sigma Epsilon and Beta Gamma Sigma, McCurdy earned her my undergraduate degree in accounting with a minor in sustainable business from App State earlier this year. McCurdy is passionate about sustainability studies and ESG reporting.
To learn more about 3MT competition, visit graduate.appstate.edu/enrolled-students/3-minute-thesis-competition.
About Graduate Education at Appalachian
Appalachian State University's Williams School of Graduate Studies helps individuals reach the next level in their career advancement and preparedness. The school offers 80 graduate degree and certificate programs in a range of disciplines, including doctoral programs in education (Ed.D.) and psychology (Psy.D.). Classes are offered at the main campus in Boone as well as online and face-to-face at locations around northwestern North Carolina. The graduate school enrolls more than 2,000 students. Learn more at https://graduate.appstate.edu.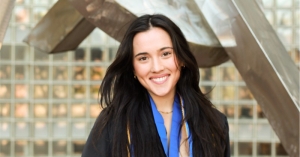 Tags: