The Walker College of Business Department of Accounting recently hosted the 2015 "Meet the Firms" event on the campus of Appalachian State University.
More than 150 recruiters representing nineteen firms attended the associated activities, which began August 24 and concluded September 4. The event provides a forum to help students majoring in accounting develop professional relationships with a network of industry representatives and find internship and full-time job opportunities.
During "Meet the Firms," more than 125 students participated in networking events and mock interviews, during which CPA firms provided suggestions for growth.
Since the event, the nineteen participating firms, as well four additional firms, have come back to Appalachian to interview students for both internship and full-time positions.
A total of 535 interviews resulted from the activities.
Appalachian's Department of Accounting has an active internship program, which offers accounting majors the opportunity to earn college credit while gaining valuable experience in the accounting profession. The recruiting process for the internship program generally begins the fall semester of the senior year with the internship occurring during the spring semester.
For more information about the Department of Accounting's internship program, contact department chair person Doug Roberts, (828) 262-6213, robertsfd@appstate.edu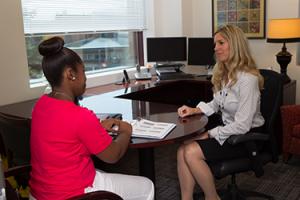 Tags: