The Watauga Democrat recently reported that NCBA Professor of Banking in the Walker College of Business at Appalachian State University will provide an annual economic forecast from 7:30-9 a.m. on Jan. 24 in the Snow Cloud room at Appalachian Ski Mtn. in Blowing Rock.
The talk is part of the third annual High Country Economic Kickoff Breakfast, which will also provide a forum to discuss new local workforce training efforts and presentations of the large, small and startup businesses of the year.
The event is co-hosted by the Boone Area and Blowing Rock Chambers of Commerce and is presented by Peakgroup.insure, formerly the Nationwide Insurance Charles Eyler Agency.
"This is the third year that we have done this breakfast," said Charles Hardin, president of the Blowing Rock Chamber of Commerce. "We'll have 125 people there, or so."
According to Boone Area Chamber of Commerce President David Jackson, similar economic kickoff events have taken place in the past, but the breakfast event co-hosted by the Boone Area and Blowing Rock Chambers is in its third year.
Part of the morning will include the Boone Area Chamber presenting its Small Business of the Year, Large Business of the Year and Startup Business of the Year, which were voted on in December. Hardin will give a presentation on Blowing Rock's Winterfest, which starts that day and runs through the weekend.
Harry Davis — a longtime ASU Walker College of Business professor of banking and economics and of the North Carolina Bankers Association — will once again advise the attendees on what the trends and prognosticators are saying about the 2019 business year. In January 2018, Davis gave a rousing endorsement for the year ahead, saying it was predicted to be the best economic period in a long time.
"Davis is considered one of the best authorities on economy forecasting," Hardin said. "What he's going to do is take macro information on a national and state level and break it down to how it affects the High Country ... hopefully will be able to tell us based on national trends what it means for local businesses, such as real estate, development, tourism, hotels, restaurants, retail and more."
"Davis' remarks are very drilled down to the local region," Jackson said. "Hopefully that information helps people set their own business agenda based on that information. Plus, it's good after the holidays to get everyone together to hear pertinent information."
According to Jackson, Davis is a much-sought-after economic voice not only locally, but on a statewide basis as he is presenting the economic forecast to the North Carolina Chamber this month.
"I think small business owners are real fortunate to have access to Davis' forecast to use that effectively and plan the upcoming year," Hardin said. "I found the information to be extremely valuable."
Also speaking on Jan. 24 will be Mark Poarch, the president of Caldwell Community College and Technical Institute. Poarch — who has been in his current position since July 2017 — earned a doctorate from ASU and bachelor's and master's degrees from Western Carolina University.
Poarch will present a deep dive on CCC&TI's Career Connections program that was started in the last year and how it can apply to local businesses.
"Dr. Poarch is going to shed some light on the resources that Caldwell (Community College) has that all businesses can take advantage of," Jackson said. "The Career Connections program provides an opportunity for businesses who are seeking talent or looking to train staff."
"Caldwell (Community College) is very involved in that and partners with N.C. Jobs to help people find jobs and help employers find employees, which is a big issue right now," Hardin said.
Tickets are $10 for Chamber members and $15 for non-members. For more information and to RSVP, contact the Boone Area Chamber of Commerce at (828) 264-2225 or the Blowing Rock Chamber of Commerce at (828) 295-7851.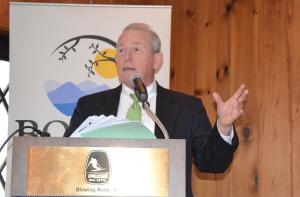 Tags: