ASU NEWS - A sea of black robes, mortar boards and gold tassels filled Appalachian State University's Holmes Convocation Center for commencement ceremonies held May 8-10 on campus.
A total of 2,376 undergraduates and 289 graduates were candidates for the May graduation ceremonies. In addition, students who will complete their degree requirements this summer were invited to participate in the ceremonies.
"Today, you leave Appalachian prepared to make real and powerful differences in your communities and beyond," Chancellor Sheri N. Everts told graduates of the Cratis D. Williams School of Graduate Studies Friday, May 8. "You leave strengthened, prepared and energized by the relationships you developed with the faculty and staff who served as teachers, fellow researchers, mentors and role models. You move forward from this transformational journey having been supported by family, fellow students and friends, and you will never forget how important they were in this journey.
"As you move on to new challenges and aspirations, remember you will forever be a part of this great university and you are our most powerful and enduring legacy. Go out into the world and live our university motto – Esse Quam Videri – to be rather than to seem. I congratulate you on your achievement and I am heartened for our community, state, nation and world by the promise you take forward into a future made all the brighter because of you."
Ceremonies were held Saturday, May 9, for the College of Fine and Applied Arts, Hayes School of Music and the College of Arts and Sciences and degrees were awarded May 10 for graduates of the Reich College of Education, Donald C. Beaver College of Health Sciences and Walker College of Business.
Three graduating students were selected to speak at the Walker College of Business ceremony: Accounting graduate Cara White of Fayetteville; Risk Management and Insurance graduate Kameron "Kam" Bryant of Durham; and Management and entrepreneurship graduate Ryan Sommerville of Raleigh.
Sommerville said graduation was a milestone and forces graduates "to think not just about the moment, not just about what it took to get here, but more importantly- who enabled us to get here," he said. "It's about recognizing how fortunate we have been, about how much others have invested in us, the excitement and opportunities ahead and the responsibility and obligation we have going forward."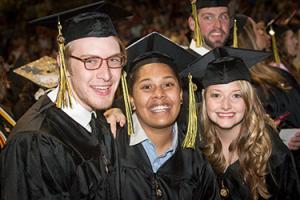 Tags: