BOONE, N.C. — When it comes to their appreciation for App State, Liz and Jeff Mick believe in paying it forward.

Recently, they made a generous gift to A Mountaineer Impact, A Drive for Excellence — another example of their continued support of Appalachian State and App State Athletics.

Liz, who graduated from App State in the early 1980s, and her husband endowed a partial scholarship for an accounting student in 1996. That scholarship now benefits two students, and as Jeff has taken an active role serving on the advisory board for the Walker College of Business and appearing as a guest lecturer, the Micks have established three more partial scholarships in the College of Business as well as two partial scholarships for App State's women's golf program.

The latest contribution shows the connection they have developed with a new generation of App State students and the commitment they've made toward a bright future for both Appalachian State and App State Athletics.

"Their stories and their commitment to getting an education are inspiring and moving," Liz said. "Hopefully, they will give back to Appalachian State when they are able."

The Micks' efforts to contribute to a world-class experience for student-athletes and non-sports-playing students were motivated, in part, by Liz's own experiences in Boone.

After growing up about 90 minutes away in Galax, Va., she fell in love with App State while making a campus visit during her senior year of high school.

Liz attended App State from 1978-81 and graduated with a Bachelor of Science in Business Administration. To this day, with fond memories of attending football and basketball games, she savors the long-lasting friendships she made in Boone as an undergraduate.

Jeff, meanwhile, received "Honorary Alumni" recognition from App State in 2014.

Jeff and Liz are both retired now following successful careers in business. They spend most of their time in nearby Jefferson or Pinehurst, but their influence is evident in many areas throughout App State's campus thanks to the scholarships they've worked to establish.

"It has been incredibly rewarding for us to meet the recipients of these scholarships," Liz said.

Anyone interested in making their own impact on App State student-athletes during these challenging times can do so by contacting the Yosef Club at yosefclub@appstate.edu or 828-262-3108.

A Mountaineer Impact, A Drive For Excellence is designed to impact every Mountaineer student-athlete and sports program. It will construct and enhance athletic facilities, provide critical scholarship support and affect the overall athletic experience for student-athletes and fans while strengthening the campus and community. To make a gift in support of A Mountaineer Impact today, contact the Yosef Club at yosefclub@appstate.edu or 828-262-3108.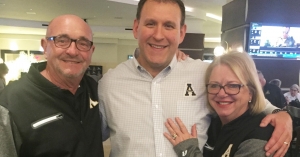 Tags: