NC State Representative Destin Hall addressed a capacity crowd of Appalachian State University students during a recent event in Appalachian's Gamma Iota Sigma Guest Speaker Series.
The student attendees, Risk Management & Insurance (RMI) majors in the Walker College of Business, learned about legislative and regulatory issues impacting the citizens of our State and how Hall's academic preparation at Appalachian prepare him for his role.
Representative Hall, who serves on the House Insurance Committee, is a Walker College of Business graduate, having earned his bachelor's degree in risk management and finance and banking from Appalachian in 2009.
"It's great to have a chance to return to Appalachian and give back to a program that really did a lot for me as a guy who came to Boone as a first generation college student," said Hall. "The RMI program has been a foundation upon which I have built my career, and I still use the knowledge I gained at ASU in my law practice, and in my service as a state legislator."
Hall added that graduates of the program will experience outstanding opportunities and that he would recommend it to anyone considering the major.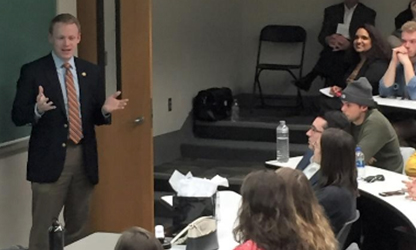 NC Representative Destin Hall addresses a capacity crowd of RMI majors as part of the Gamma Iota Sigma Guest Speaker Series
Joining Representative Hall was the Independent Insurance Agents of North Carolina Vice President of Governmental Affairs, Joe Stewart. Stewart described the political process of developing insurance legislation and the interaction with regulators.
The Gamma Iota Sigma Speaker Series is coordinated by the Brantley Risk and Insurance Center, which provides co-curricular opportunities to RMI majors at Appalachian, including opportunities to interact with industry professionals.
"We appreciate the visit and engaging presentation by Representative Hall and Joe Stewart," said Brantley Center Director David Marlett. "After the presentation, they joined students for dinner and offered guidance to help them academically and professionally."
Marlett said that the willingness of professionals to spend time and engage with Walker College students on campus is part of what sets Appalachian business graduates apart from peer institutions.
Related: Appalachian State University named a strong performer by Best's Review for its outstanding risk management and insurance program
Independent Insurance Agents of North Carolina Vice President of Governmental Affairs, Joe Stewart addresses Walker College of Business students as part of Appalachian's Gamma Iota Sigma Guest Speaker Series.
About the Brantley Center
The Brantley Risk and Insurance Center in Appalachian State University's Walker College of Business enhances the academic experience by providing space and staff to assist risk management and insurance majors with networking, job placement preparation and contact with faculty members outside the classroom. It provides students opportunities to participate in professional designation and licensing programs, and invites industry leaders to participate in classes and speak to student organizations. It also fosters research and faculty development, assists the insurance industry in the design and delivery of continuing education programs and helps educate the public about the insurance industry. Appalachian is designated a Global Center of Insurance Excellence by the International Insurance Society. Learn more at insurance.appstate.edu.