Ninety-two percent of Walker College of Business Class of 2015 graduates have successfully reached their first destination, according to statistics compiled by staff at Appalachian State University's BB&T Student Leadership Center.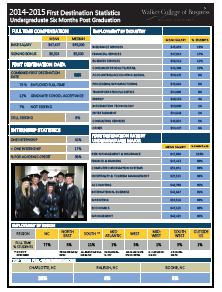 First destination statistics report employment rates, salaries and additional information regarding undergraduates six months* post-graduation. Seventy-nine percent of those that are at their first destination are employed full-time, making an average base salary of $47,407, with 13 percent attending graduate school and the remaining eight percent involved in non-career related pursuits. Those not at their first destination are still seeking full-time employment. Individuals who are still seeking full-time employment include those who have accepted part-time employment or a temporary, full-time job.
The survey response rate was 96 percent.
The North Carolina job market benefited the most with 77 percent of respondents electing to work full-time in the state. While only five percent of graduates sought work in Boone, the majority, 28 percent of the graduates, are working in nearby Charlotte. The Southern Region (AL, AR, FL, GA, KY, LA, MS, SC, TN) saw the second highest influx of Appalachian graduates, 11 percent.
The survey also provided insight about internships in business fields at Appalachian. Of the 2015 Walker College of Business graduating class, 57 percent held an internship during their course of study. Thirty-eight percent of those who had an internship earned course credit for their on-job experience.
The insurance service industry had the highest percentage of the Walker College of Business graduates entering the field with 19 percent. The financial service industry was second on the list with 17 percent, while consulting services had the lowest percentage of Appalachian graduates, one percent.
"Seven of the nine majors in the Walker College boast 90 percent or higher first destination rates," said BB&T Student Leadership Center Executive Director Michelle Boisclair.
Boisclair added that students majoring in all functional areas of business at Appalachian have opportunities to interact with industry. "Business Connections, one of several signature Walker College events, provides a day-long forum for business students to learn from, and network with, company representatives on campus."
Related: Walker Business Connections to be held on campus at Appalachian State University on September 28, 2016.
"Even the lowest of our first destination rates are much higher than the national average," said Boisclair. "According to the National Association of Colleges and Employers (NACE) 71 percent of college graduates in 2014** reached were employed full-time or attending graduate school within six months."
Boisclair attributes the telling figures to a number of factors, including innovative programs like Business Connections, exceptional partnerships with industry and an engaged faculty.
About the Walker College of Business BB&T Student Leadership Center
The BB&T Student Leadership Center delivers professional, leadership and career development opportunities to business majors in the Walker College of Business at Appalachian State University. Inspiring and engaging students to connect their academic experience to the business world, the center helps train and develop future business leaders. The BB&T Student Leadership Center was founded In 2011 in recognition of the BB&T-Appalachian partnership to continue to develop and embrace a culture of leadership.
To learn more about Walker College of Business first destination statistics or programs offered in the BB&T Student Leadership Center, contact Michelle Boisclair, boisclairm@appstate.edu or (828) 262-7579 or visit their site: leadership.business.appstate.edu.
*Survey measures are taken between commencement and six months after graduation, which results in statistics that apply to the previous academic year.
**NACE reporting for 2015 anticipated June 2016.