Department of Finance, Banking and Insurance Professor Harry Davis was part of an expert panel that said North Carolina's economy will grow somewhat in 2017. The panel members cautioned against counting on robust growth during the coming year, however, according to the Carolina Journal.
The discussion was part of the 15th Annual Economic Forecast Forum held January 4 in Durham, NC. The event, hosted by the North Carolina Chamber of Commerce and the North Carolina Bankers Association, brought together thought leaders to discuss North Carolina's economic forecast for the year ahead. Other speakers included Dr. Michael Walden, William Neal Reynolds Distinguished Professor, North Carolina State University; Mr. Mark Vitner, Managing Director and Senior Economist, Wells Fargo; and Dr. John Connaughton, Barings Professor of Financial Economics, UNC-Charlotte. Mr. Tim Boyum, host of Time Warner Cable's Capital Tonight, moderated the discussion.
Related: Harry Davis to serve as panelist during economic forecast forum
Governor Roy Cooper was on hand at the event to share remarks on the state of the state.
The four economists all agreed that North Carolina would grow faster than the rest of the country in 2017, forecasting the addition of thousands of jobs, according to a news post from governing.com.
Dr. Davis is a Professor of Finance, Banking and Insurance in Appalachian State University's Walker College of Business and an economist for the North Carolina Bankers Association.
Related: Walker College/NCBA Professorship to honor Harry Davis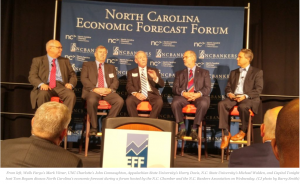 Tags: