"Boss: The Black Experience in Business" / Nov. 5 / 12 and 3 p.m.
Roundtable discussion / Nov. 5 / 5 p.m.
The 17th annual Carole Moore McLeod Entrepreneur Summit at Appalachian State University returns in 2020 with a new virtual format. The content, however, will prove to be equally as powerful and insightful as in past years.
On Thursday, November 5, join the Center for Entrepreneurship and the Black Student Association as they host two viewings of Boss: The Black Experience in Business directed by Stanley Nelson. Check out the PREVIEW, choose between a 12 p.m. or 3 p.m. screening, REGISTER, and then mark your calendars to join us for movie showings over Zoom! Simple. And don't miss out, REGISTER for the bonus opportunity: Join us at 5 p.m. for a roundtable discussion with three-time Emmy winning director and entrepreneur Stanley Nelson.
Black, Indigenous, and People Of Color (BIPOC) have faced extraordinary obstacles and hardships in their efforts to find success in the business world. Join us to hear inspiring stories of black entrepreneurs who charted their own course, created their own destiny and drove change in society and business. We can all learn from these remarkable leaders and work together to build the future we want.
About Stanley Nelson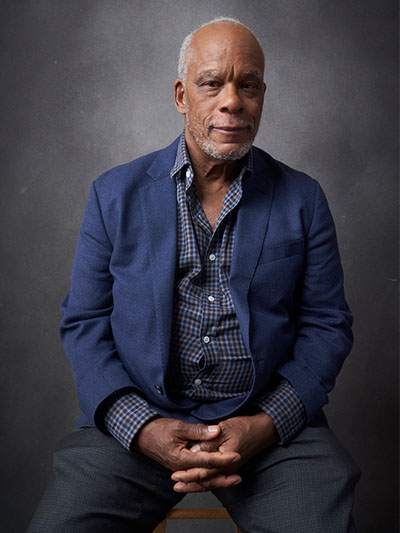 Stanley Nelson is the foremost chronicler of the African American experience working in nonfiction film today. His films, many of which have aired on PBS, combine compelling narratives with rich and deeply researched historical detail, shining new light on both familiar and under-explored aspects of the American past. Mr. Nelson's film, The Black Panthers: Vanguard of the Revolution (2016), is the first comprehensive feature-length historical documentary portrait of that iconic organization, as well as an extremely timely look at an earlier phase of black activism around police violence in African American communities. The film won the 2016 NAACP Image Award. Nelson's two previous films, Freedom Riders (2010, three Primetime Emmy Awards) and Freedom Summer (2014, Peabody Award), took a fresh look at multiracial efforts to register black voters and desegregate public transportation facilities in the Jim Crow South, critical events in the civil rights struggles of the 1960s. Nelson's 2003 film The Murder of Emmett Till, about the brutal killing of a fourteen-year-old African American boy in Mississippi in 1955, an event that had a galvanizing effect on the mid-century civil rights movement, uncovered new eyewitnesses to the crime and helped prompt the U.S. Department of Justice to reopen the case.
Other notable Nelson films include the Emmy nominated The Black Press: Soldiers Without Swords (1999), a sweeping portrait of over a century of independent black journalism; Two Dollars and a Dream (1989), a biography of Madame C.J. Walker, the first self-made African American female millionaire; Jonestown: The Life and Death of People's Temple (2006, Tribeca Film Festival Special Jury Prize), a riveting account of how cult leader Jim Jones led more than 900 followers to commit mass suicide in a remote corner of northwestern Guyana in 1978; Marcus Garvey: Look for Me in the Whirlwind (2000, Sundance Premiere) a moving account of the life of the controversial early twentieth-century black nationalist; and A Place of Our Own (2004, Sundance Premiere), a remarkable and revealing portrait of the upper-middle-class African American resort community of Oak Bluffs on Martha's Vineyard, as well as a very personal portrait of Nelson's sometimes difficult relationship with his father.
In 2000, Mr. Nelson, along with his wife, Marcia A. Smith, founded Firelight Media, a nonprofit production company dedicated to using historical film to advance contemporary social justice causes, and to mentoring, inspiring, and training a new generation of diverse young filmmakers committed to advancing underrepresented stories. In the last seven years, fifteen films have aired on national television.
Nelson, a MacArthur "Genius" Fellow, was awarded an individual Peabody for his body of work in May of 2016. He has received numerous honors over the course of his career, including the 2016 Lifetime Achievement Award from the National Academy of Television Arts Sciences. In 2013, Nelson received the National Medal in the Humanities from President Barack Obama.
About Carole Moore McLeod
The annual summit is named for Advantage Waste Recycling & Disposal CEO Carole Moore McLeod. Carole is a 1981 Walker College alumna whose support has provided the opportunity for students and community members to meet, network, and learn from successful entrepreneurs for 17 years.
Register online
Learn or register Today.