The Department of Computer Information Systems (CIS) in the Walker College of Business is set to host Appalachian State University's second Cyber Summit on Thursday, October 20.
The event begins at 8:00 a.m. in App State's Grandview Ballroom at Kidd Brewer Stadium.
Topics and Speakers
Participants will hear the latest information about protecting themselves and their organizations' data from cyber threats.
Topics and speakers include:
KEYNOTE: Managing Cyber Risk & Protecting Your Organization's Most Important Asset Marc Varner, Chief Information Security Officer, Lowe's Companies
Software Bill of Materials – Understanding the Executive Order & Helping Developers Be Secure Elliott Johnson, Principal Solutions Architect, Veracode
What Security Professionals Get Wrong About OT/ICS Security (and what it could cost) Austen Byers, Technical Director, Americas, TXOne Networks
Trends in Cyber Security & The Growing Talent Gap Aaron Rose, Cyber Security Evangelist, Check Point
Zero Trust Network Access 2.0: A Framework for Network Security Doug Sept, Systems Engineer, Palo Alto Networks
KEYNOTE: Prevention, Detection, and Response Jim Guido, EVP Engineering, HighPoint
Cyber Threats to the Power Grid Martin Strasburger, Chief Information Security Officer, Duke Energy
Enhancing SecOps Practices with MITRE Chris Boehm, Technology Strategist, SentinelOne
Cybercrime & War in the New Digital World Sushila Nair, VP Security Services, NTT Data
The Evolution of Zero Trust Networking Galeal Zino, Founder and CEO, NetFoundry
Changing Behaviors Through Meaningful Response Tommy Todd, VP of Security Code42
CPE Credits
The full-day event will allow industry professionals to learn from and network with industry experts and earn 7.2 CPE — Continuing Professional Education — credits.
There is a fee of $75 to attend, which includes lunch and social hour.
App State students may attend for free by registering in advance and contacting Samantha Williams, williamsse11@appstate.edu, for details.
Cyber Summit's Impact on students
Funds raised from last year's inaugural event were used to provide an unprecedented number of scholarships to CIS students for the 2022-2023 academic year. Guided by the CIS Advisory Board, proceeds from this year's event will once again fund scholarships for rising star students.
Past recipients said their scholarship made a big impact on their lives.
"Receiving this scholarship has lightened my financial burden and allowed me to focus more on studying and earning good grades, participating in clubs, and being involved with extracurricular activities on campus -- like volunteering as a research analytics project coordinator at the student-run coffee shop in Peacock Hall," said Layla Koroleva.
"My scholarship enables me to put my best food forward in the classroom and fully focus on my studies rather than worrying about paying tuition," said Bennett Gungor.
"This scholarship gives me encouragement, drive and purpose," said Peyton Cline. "After graduation, I will be continuing my education to earn a MS in Applied Data Analytics at App State!"
One of the few universities in North Carolina to offer a degree in Cyber Security, future business leaders are at App State today.
Register Online
Learn more or register online, cis.appstate.edu/cyber-summit-2022/registration.
Questions? Contact Samantha Williams, williamsse11@appstate.edu, (828) 262-2034.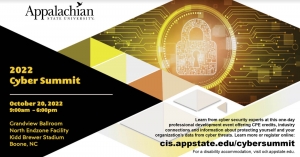 Tags: