As Ban Ki-Moon, former Secretary General of the United Nations, oversaw the group's crafting of the 17 Sustainable Development Goals for the 2030 Development Agenda, he said, "We don't have a plan B, because there is no planet B." We're all in this together, the message runs, and intentional, ambitious collaboration and education is critical to preserving and bettering our world. That's why, at Appalachian State University, strategic partnerships all across the community bolster sustainability-driven mindsets, motives and actions.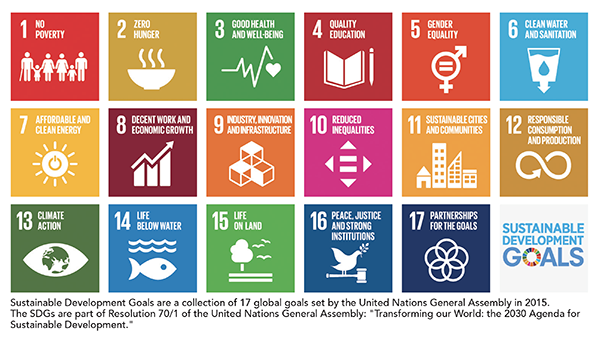 Teaching Innovation
One such collaboration, Gaining Early Awareness and Readiness for Undergraduate Programs (GEAR UP), seeks to spark a flame for entrepreneurship within the region's elementary, middle and high school students. Through work with GEAR UP, the Walker College aims to support, develop and recruit prospective business leaders and students, and evidence of the next generation's hunger to tackle future problems can be found in the recent GEAR UP Pitch Competition. There, dozens of teams of young students pitched their innovative ideas to a team of judges, including Jonathan Carpenter, Assistant Director of Appalachian's Transportation Insight Center for Entrepreneurship (TICFE) and Bob Washburn, CEO of LifeStore Financial Group. Students' ideas were far-ranging and included an organic, homemade sanitizer spray; a phone case that uses solar panels to charge the device; a strategy to bring food markets to under-served areas in Appalachia; and a car pedal extension device to accommodate individuals of short stature. By reaching these students early and stoking their interest in innovative and sustainable ideas, business, and community engagement, Carpenter is readying the next crop of leaders to face complex, large-scale and ill-understood challenges for decades to come.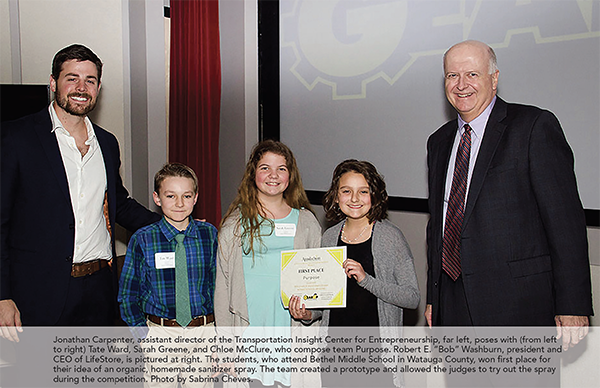 Sharing Financial Literacy
The unknown nature of the future's challenges makes it important to stay prepared, nimble and self-secure, and, to that end, GEAR UP, TICFE, staff from the State Employees Credit Union (SECU) and Walker College students also work together to host financial literacy programs for middle and high school students in Ashe and Wilkes counties. Together, they educate these students on avoiding the quicksand of debt and the importance of keeping a balanced budget. By learning to sustain ourselves and our families early on, the thinking goes, we'll be in a better position to work toward sustaining our planet. It's an enriching experience for the Appalachian students as well, for they get to pass on exceedingly valuable and practical knowledge to the next generation, helping them to avoid crippling financial pitfalls and maximize their potential. "For me, the most rewarding part of the activity was seeing young high school students who had never had any exposure to real life financial applications, going through the process and quickly learning how to prioritize their finances," said analytics graduate student Rachel Drye. The experience embodies the intentional collaboration that yields a potentially transformative experience for current students in the Walker College. "We're here to help students identify problems worth solving and then get started solving them," said TICFE Director Erich Schlenker. "Working together, sharing brain-power, connections and resources—those are the best tools to effect positive change and bring ideas from the imagination into the real world."
Collaborating with Key Partners
A theme in the Walker College is clear: together, we can inspire and motivate new thinking, new practices and new energy toward achieving global sustainability, resilience and progress. Rachael Jarosh, CEO of the not-for-profit "experiential learning platform" Enactus, succinctly articulated the group's mission, one that integrally aligns with the values of Walker College: "We believe investing in students, who take entrepreneurial action for others, creates a better world for all of us." With support from TICFE, the Walker College is launching a chapter of Enactus, which will yield additional opportunities for students to apply their drive, curiosity, compassionate instincts and acumen at business and innovation toward bettering the future.
Enactus at Appalachian
Jarosh spoke to GEAR UP participants and current Walker College students during the TICFE's Carole McLeod Entrepreneur Summit on Appalachian's campus November 2 and addressed the capacity that students have to effect powerful, lasting change in their communities and the world at large. Enactus works to connect students with worldwide business leaders, resources, information and the insight they need to put their ideas for sustainable development into entrepreneurial action. With more than 72,000 students participating in Enactus across 36 countries working on more than 3,800 projects, the organization provides a tremendous network for Walker College students to gain inspiration, spread ideas and access the knowledge and resources needed to shape a globally sustainable and just future.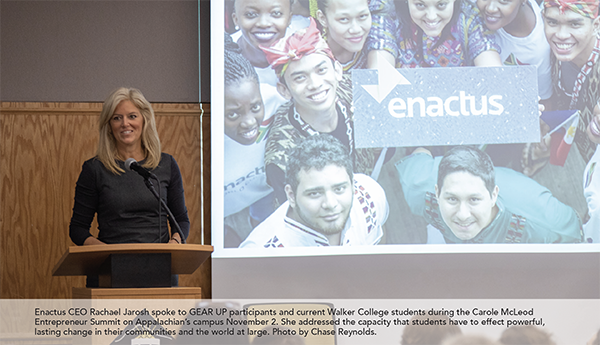 Aligning our Values
At the Walker College of Business, through collaboration with key partners like GEAR UP, LifeStore, Enactus and TICFE, students learn to think outside themselves and consider the myriad ways in which their actions can have broad and lasting impact by building a world made to last. The possibilities for positive change are endless, and the Walker College, with the aid of its invaluable partners, augments students' drive and provides the means to actualize these changes at every opportunity.
Oct. 23, 2018
Michael Meznar
BOONE, N.C.