A key component to the Walker Experience at Appalachian State University is classroom learning with industry professionals.
The Department of Marketing & Supply Chain Management recently welcomed travel blogger, social media influencer and IT recruiter for Amazon Web Services Becca Ingle to present on her experiences during a digital marketing class (MKT 3225-101).
Industry professionals are encouraged to engage with students in the Walker College through guest lecturing, as well as through volunteering resources, serving as recruiters and mentors, and more.
Get Started
Take the first step by completing the WCOB Connect online form.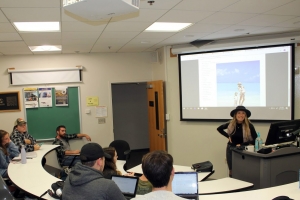 Tags: