Appalachian State University celebrated its Homecoming on September 29, and, as a culmination to a full week of activities, the Mountaineers took on the South Alabama Jaguars on the football field.
Appalachian won the football contest 52-7.
Prior to the game, Walker College of Business Dean Heather Norris was introduced to game-goers, along with her peers, the deans of the other academic colleges at Appalachian. Dean Norris shared with us the photo, captioned: It's game day in Boone, and Appalachian State University's academic deans are cheering on our Mountaineers!
Pictured, from left, are Dr. Garner Dewey (Associate Dean, College of Fine and Applied Arts), Dr. Melba Spooner (Reich College of Education), Dr. Marie Huff (Beaver College of Health Sciences), Dr. Heather Norris (Walker College of Business), Dr. Neva Specht (College of Arts and Sciences) and Dr. James Douthit (Hayes School of Music).
Before the photo, the Walker College of Business had hosted a tailgate for alumni and friends on the Peacock Hall Patio.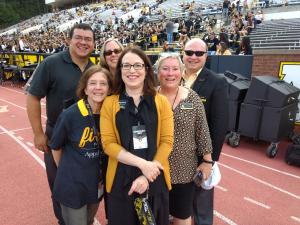 Tags: