How to Write a Cover Letter
March 20, 2018, 5:00 – 6:00pm in Peacock Hall 1010
You have perfected your resume; now how do you write a dynamite cover letter? Learn how to weave your story in a cover letter to land an interview and the job of your dreams.
Join Business Career Services as we go through, step by step, how to write the perfect cover letter.
About Professional Development Series
Business Career Services is pleased to present the 2018 Professional Development Series starting this Spring. The Center provides subject matter experts to deliver presentations on current career, professional and leadership development topics. Join us as we cover a variety of topics designed to help you land your dream job and prepare for your career after college. College of Business affiliated clubs, organzations and classes are welcome to attend and participate. See the full workshop schedule.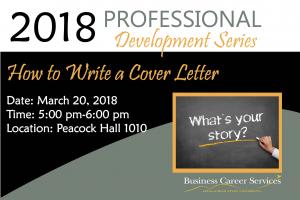 Tags: