Appalachian State University senior Andrew Grimes believes that the proper resources in the hands of the right people can lead to incredible things.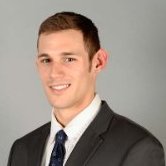 "Although I don't have the scientific knowledge to fuel innovation in the future," said Grimes, a finance and banking major. "I recognize that innovation requires a network of people working behind-the-scenes to manage all aspects of a project."
Grimes, who six months ago had no idea a solar vehicle team existed at Appalachian, is one of the students working on Apperion, Appalachian's solar vehicle that finished sixth overall in the nearly 2,000 mile race, American Solar Challenge (ASC), July 30-August 7.
Read more about the ASC and Appalachian's results.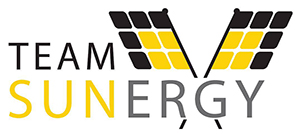 The students who run Apperion, members of Team Sunergy, also earned the Teamwork Award from the ASC. The award proved the behind-the-scenes work was inspirational for not only the ASC judges to see in action, but also that their hard work is paying off, in more ways than one.
"Funding is and has always been a major driver of innovation throughout history," said Grimes. "Every project's budget must be carefully thought out and adhered to in order to meet project goals."
The Sunergy students are from varied backgrounds on campus, and Grimes, who serves as the business director for the team, studies finance in the Walker College of Business.
He became involved in the award-winning organization just six months ago.
"I heard about a need for business-minded people," he said. "So went to a meeting, and, it turned out, I fit right in!"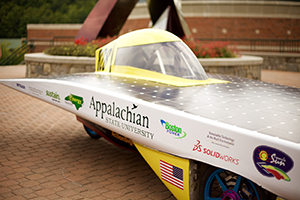 Grimes elaborated on how the team works, and how, together, a people can make an impact in the world, in this case on the future of transportation.
"Engineers should be able to engineer things without worrying about the management of budgets and marketing strategies," he said. "An efficient business team should provide the specialists with the resources they need without getting in the way."
Grimes explains that Apperion's success is due to, in part, community sponsors and good marketing to get those sponsors and the community involved. This has been one of Grimes' primary roles on the team.
Appalachian Mountain Brewery, one of several community partners for Sunergy, helped fundraise through a pints for non-profits program. Grimes shared that event as an example of how balancing the solar vehicle project and his business studies can get interesting.
"I had three final exams the after the May 12 event," said Grimes. "I remember being excited to be out in the community with our car but getting more and more stressed about the urgency of studying for my exams."
The Raleigh native added that, "as a child my mother took me camping and encouraged exploration, so when the time came to apply to college there was no doubt that Appalachian was the place for me."
He went on to share how Appalachian has changed his way of thinking.
"One of the most impactful classes I've taken at App is Organizational Behavior with Dr. Jim Westerman," said Grimes. "I often think about the lessons about how teams and groups interact and how we can work together to make the best final product."
"I really appreciate Dr. Westerman's dedication to Sustainability and hope that more business students will adopt a "green" mindset going forward," said Grimes. "I love Team Sunergy's commitment to sustainability," he said. "We geek out about sustainable initiatives around campus and the country."
This is how Andrew sees Team Sunergy: as a network of "really cool people" working together to accomplish awesome feats.
To learn more about Team Sunergy and Apperion, visit http://www.appstatesvt.com/.