Appalachian State University's solar vehicle team is working not just to compete on a global stage, but also to build a more sustainable transportation for the future.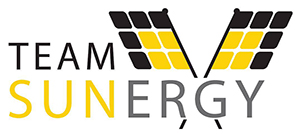 A joint venture between the Department of Sustainable Technology and the Built Environment in the College of Fine and Applied Arts and the Department of Physics and Astronomy in the College of Arts and Sciences, Team Sunergy consists of more than 20 graduate and undergraduate students majoring in a variety of programs. Led by advisors Jeremy Ferrell, Christopher Tolbert and Brad Johnson, the team is driving sustainable transportation initiatives locally and beyond.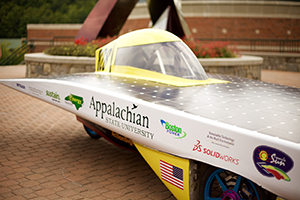 The team is racing Appalachian's car, Apperion, in the Formula Sun Grand Prix and American Solar Challenge this summer. Their success will depend upon the wealth and varied knowledge and experiences of team members.
Among the team members are two business experts studying in the Walker College of Business. Senior finance and banking major and computer science minor Andrew Grimes is the business director, and music industry major with a concentration of marketing and management and a general business minor Lindsay Rudisill is one of four qualified drivers.
In a recent Q&A session, Rudisill gave us the inside track on her experiences with Team Sunergy.
Rudisill, who is originally from Lookout Mountain, Georgia, near Chattanooga, Tennessee, has long had a passion for driving and connecting with a vehicle.
"It is a natural, intense passion of mine," she said. "The five-hour drive from Lookout Mountain to Boone is all through the curvy mountain roads. I love it in my Volvo S60."
She credits her brother, JB Rudisill, a fellow Appalachian student with an interest in physics and sustainable energy, for introducing her to the solar car experience.
"He knows how much I love cars. He brought me along to a meeting my junior year, and I've been with the team since!"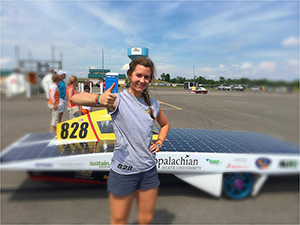 Although she admits that when she first joined the team, Lindsay 'couldn't stop from trying to learn more about the car itself,' she found her strength on the team lay in her business knowledge. Lindsay soon began coordinating outreach events, organization and logistics for the team with a goal to gain exposure for possible donors and sponsors.
Lindsay has driven competitively before.
"I raced SCCA in Nashville with my completely stock Volvo S60 and finished pretty well taking a stock and a FWD vehicle into consideration."
She got the call to drive after team mechanical director – Jon Linck – related that experience to the project director Dan Blakely, who called Lindsay with the offer.
"I'm so thankful the team is putting their trust in me to take this challenge head on."
Lindsay is excited to race and compete, but the experience has been more valuable than just that.
"One of the best parts of this experience is being part of a considerate, collaborative team that can work full days without complaint, all for the cause of innovation. We're like a small family. We communicate well, all have the drive toward the same goal, and are willing to do whatever it takes to reach it with no excuses."
Rudisill is a member of more than just one important team. In the Walker College of Business, she is a member of the American Marketing Association, which she credits with giving her the needed skill set to earn a marketing internship for Appalachian State Athletics during her sophomore year. She has also participated in the Association of Student Entrepreneurs at Appalachian. "Erich [Schlenker] is always so open and willing to help out with all my crazy ideas," she said.
Lindsay explains that she works hard, but finds a time for schoolwork and extracurricular activities. "I'm so busy, even to a fault sometimes."
She shared that she finds a balance doing what she enjoys, and hopefully traveling a path toward professional success.
She added that the Music Industry Program at Appalachian has provided numerous opportunities to network and create professional relationships.
"I never expected to be involved in so many things, especially a solar car racing team," said Rudisill.
Although she is still working on future career plans, hoping for the perfect role in the automotive industry, Lindsay knows with certainty that she'll visit Boone after graduation.
"Boone will always be considered a home to me," she said. "I will never forget some of the great relationships that I have made here with members of the community."
As for her role on Team Sunergy, Lindsay – as well as each of her teammates - has committed to raising awareness by mentoring high school students in sustainability, and to reaching out to the public for awareness of such sustainable technology.
The interest in improving sustainable technology in the automotive industry does seem to be catching. Mathworks, D's Solidworks, ASUREI, Sustain Appstate, Sunpower, Boston Power, Appalachian Energy, ActionSign.com, Airtech, Gore, Golf, ASU's Department of Phsyics and Astronomy, ASU's Sustainable Technology and the Built Environment, Car Catalog.com, and Dunmore have signed on to sponsor Team Sunergy.
On July 26, the group will need to complete 330 km in one day or 495 km in two consecutive days in the Formula Sun Grand Prix at Pittsburgh International Race Complex. The three-day event will qualify Appalachian for the American Solar Challenge. Further out, the team hopes to unveil the next-generation solar vehicle at the Fall Auto Fair in Charlotte, NC.
To learn more about Team Sunergy and Apperion, visit http://www.appstatesvt.com/.