The Department of Computer Information Systems (CIS), along with members of its advisory board, has announced the inaugural Appalachian State University Cyber Summit, to be held October 21, 2021 in the Grandview Ballroom at Kidd Brewer Stadium's North End Zone facility.
The event begins at 10:00 a.m. and concludes with a 4:00 p.m. social hour. Participants can expect to learn from and interact with representatives from industry-leading companies, including Veracode, ECRS, Duke Energy, Extreme Networks, Juniper Networks, Lowe's, RSM and Microsoft.
Admission to the event is $50, which provides access to speakers from business and technology. The admission fee also provides lunch and refreshments, as well as entry to the social hour. All proceeds will benefit Appalachian CIS Scholarships.
The CIS department recently announced the creation of a Cyber Security concentration, responding to the increasing needs for security professionals in the industry.
Register Online
Register online now for the Appalachian State Cyber Summit or learn more at cis.appstate.edu/cyber-summit.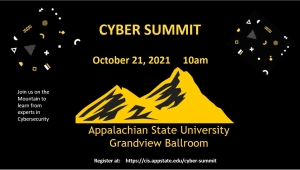 Tags: