Brantley Risk & Insurance Center - For the sixth consecutive year, an Appalachian State University Risk Management & Insurance (RMI) major has won the AAMGA Student Research Contest. May 2015 graduate Eric Vickers was chosen as one of three winners following AAMGA's annual call for white papers focusing on "issues and dilemmas faced by organizations and individuals in the Wholesale or Excess and Surplus and/or Surplus Lines industry, specifically where the industry is headed in the future."
"This was the largest number of papers ever submitted and we had more RMI programs from universities involved than ever before," said AAMGA University Chancellor Mark Rothert of Rothert Insurance of Portland, Oregon. "However, what was even more impressive was the depth of the research and the quality writing of the papers submitted," he added.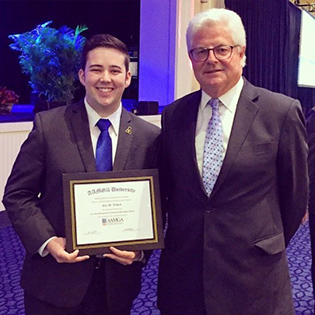 Vickers' paper, "Terrorism Risks: Industry Challenges and Opportunities," detailed the impacts of terrorism on the insurance marketplace and took top honors among papers from other RMI programs nationwide. Winning papers are selected based on soundness of industry knowledge, usefulness to other members of the industry and innovation and creativity. Vickers received a $2,500 scholarship and an all-expense paid trip to the AAMGA's 89th Annual Meeting in Maryland. Additionally, his paper appears in the Summer 2015 issue of AAMGA Wholesale Insurance News (WIN) magazine.
Pictured, Eric Vickers and Lloyd's Chairman John Nelson at 2015 AAMGA Convention.
Previous White Paper winners from Appalachian's RMI program are Alyssa Bouchard in 2014, Steven Schallau in 2013, Justin Litaker in 2012, Lisa Blair in 2011 and Ben Robbins in 2010.
The 2015 White Paper competition culminated a stellar Senior academic year for Vickers who was a member of the 2014 NCSLA Insurance Jeopardy Championship team from AppState, along with the 2015 Spencer-RIMS Risk Management Challenge National Championship team. Vickers will begin his career as an Underwriter with AIG in Atlanta, GA.