Walker College of Business students have earned second place and a $1,500 award in the inaugural PriSim Agency Management Competition, an online business simulation that allowed students to manage an insurance agency as a team.
The students are Emily Bunton, Joey Dickson, Matt Johnson and Morgan Greenwood. All are risk management and insurance (RMI) seniors at Appalachian State University.
The competition, organized by InVEST–an organization that aims to improve insurance literacy in students and attract new talent into the insurance industry–pitted Appalachian against other schools in the nation with insurance programs during a five-week simulation.
Related: Appalachian business students to compete in national insurance simulation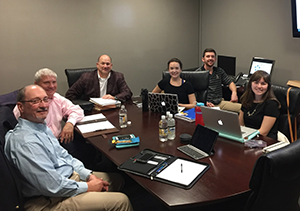 Each university ran a separate agency and controlled strategy, evaluated markets, managed capital, and directed marketing and staffing. The students met weekly with their mentors who provided guidance and shared their experience. Each week was a decision period equivalent to a simulated year. At the end of the competition, students were graded based on their performance.
Pictured from left to right are team mentors Neil Anna, Jeff Haney and Ray Tedder with student competitors Emily Bunton, Matt Johnson and Morgan Greenwood.

Appalachian's team mentors included Neil Annas, President of Granite Insurance; Ray Tedder, Vice President of BB&T Insurance Services; and Jeff Haney, President of ECM Solutions. The mentors are members of the Appalachian's Brantley Risk & Insurance Center Board of Advisors.
"There seemed to be a point where the impact of agency management decisions seemed to just click for the students," said Annas. "Much like a spider web, when you touch one aspect or break one strand, the entire agency – or web – shakes due to the change. While it seemed the overall goal of the students was to win the competition, close to the end they begin to focus more on making the agency within their control a better and stronger organization. It was rewarding to see the students recognize each other's natural strengths and then rely on the strengths of the team to achieve organizational success."
"The agency management simulation program was a great learning opportunity for the students," added Tedder. "It allowed them to make decisions such as hiring, firing, strategic marketing focus direction, carrier decisions and many other day-to-day agency operation decisions. More importantly, it ran a simulation on how those various decisions could affect the agency's profitability, growth and the impact on its longer term strategic goals."
Team leader Emily Bunton shared her thoughts on the competition. "Between the simulation itself, our mentors, and our professors at Appalachian State University, this experience increased our knowledge and understanding of the operations within an agency--something that often gets overlooked because of the strong focus on the corporate side of insurance," said Bunton. "I will be working for an insurance agency after graduation, so this experience definitely confirmed my decision to go into this side of the industry."
"I appreciate the mentors substantial time commitment and engagement with the students," said David Marlett, Managing Director of Appalachian's Brantley Risk and Insurance Center. "I was impressed how the students took this competition seriously and am pleased they placed second and received the monetary prize."
Olivet College placed first and Florida State University placed third.
About the Brantley Center
Appalachian's Risk Management and Insurance Program is the seventh largest in the country. The college's Brantley Risk and Insurance Center, founded in 1988 with support from the Independent Insurance Agents of North Carolina, supports research and faculty development, assists the insurance industry in the design and delivery of training and continuing education programs, and facilitates interaction between students, faculty and the professionals in the insurance industry. For more information about the center, visit http://insurance.appstate.edu.
About the Walker College of Business
The Walker College of Business at Appalachian State University delivers transformational educational experiences that prepare and inspire students to be ethical, innovative and engaged business leaders who positively impact our community, both locally and globally. The college places emphasis on international experiences, sustainable business practices, entrepreneurial programs and real-world applications with industry. Enrolling nearly 3,000 undergraduates in 10 majors and nearly 175 graduate students, the Walker College is accredited by AACSB International – the premier global accrediting body for schools of business.