Cathryn Struck is graduating from Appalachian State University with a BSBA in Hospitality and Tourism Management and a minor in Dance Studies.
Struck participated in two FADE shows and also in the student run dance club, Momentum, spring showcase.
Struck named Hospitality and Tourism Management Program Director Carol Kline as most impactful during her time at App State, because of the guidance provided throughout her education and during her internship.
Next, Struck will join the Disney College Program for six months.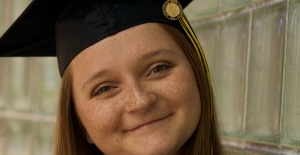 Tags: