Sinahid "Sina" Martinez is graduating from Appalachian State University with a BSBA in Marketing and Sales.
At AppState, Martinez was active with Beans 2 Brew, Women of Walker, Pi Sigma Epsilon, UNICEF and the International Business Student Association.
"App State is not only home, but a school that has given me opportunities to learn and grow into someone who is ready to succeed," said Martinez.
Martinez noted that several Walker College of Business professors have "helped mold me into a passionate and motivated young adult ready to learn from others even after graduating." Chief among her influencers are: Marketing Chair James Stoddard, Marketing Assistant Professor Nik Nikolov, Marketing Executive-in-Residence James Fyles, Marketing Professor Bonnie Guy, and Marketing Lecturer Barbara Rule. Martinez also named Kendra & Benjamin Souza and Zhiyuan Chen as having made a positive impact on her Appalachian Experience.
Martinez plans to work in sales for a company that allows her to practice her ability to speak Spanish.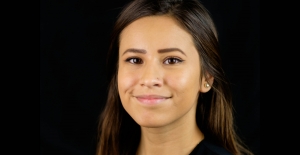 Tags: