ASU NEWS - In a high-tech, highly connected consumer market, it's often the simple approach to advertising and marketing that garners the greatest results, according to BBDO New York advertising agency's president and chief executive officer John Osborn.
John Osborn, president and CEO of BBDO New York, speaks during the spring Harlan E. Boyles Distinguished CEO Lecture at Appalachian State University. Photo by Marie Freeman.
"The basic art of storytelling is the best chance we have to connect with (consumers) in powerful ways," Osborn said speaking during the spring Harlan E. Boyles Distinguished CEO Lecture sponsored by Appalachian State University's Walker College of Business.
An explosion of technology and communication venues, such as Facebook, Twitter and YouTube has created a perfect storm, which agencies like BBDO must steer their clients through, he said.
Osborn said people are exposed to about 5,000 different messages every day. "Each and every day there are about 492 million Tweets. Video is everywhere," he said. "Video populates Twitter, it's on YouTube and Facebook. Each and every day, there are 8,640,000 minutes of video being uploaded on to YouTube. That makes it challenging for us to engage with consumers who are extremely distracted by looking at their cell phone, their iPad, reading a magazine or a number of different things."
To cut through the clutter, Osborn said his company relies on unforgettable characters, compelling story lines and some kind of social commentary or heart.
He talked about "the amplification of simplification" – "a simple story well told, simple solutions well told," he said.
Osborn illustrated his point by showing video clips of BBDO campaigns for clients such as CVS Health, American Red Cross, Footlocker and Lowe's Home Improvement, "that serve up gems of advice in six second interviews," he said.
"Storytelling, story showing and visuals can carry the workload," Osborn added.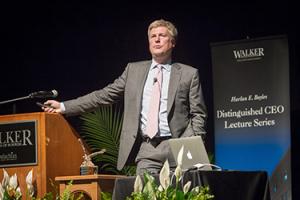 Tags: