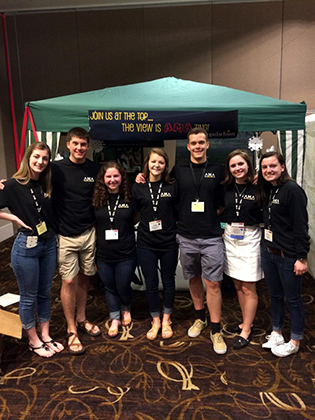 A group of Appalachian State students joined more than 1,400 fellow marketers March 19-21 for the 37th Annual American Marketing Association (AMA) International Collegiate Conference in New Orleans, LA. The annual meeting offers students opportunities to learn from industry professionals about careers and marketing and sales practices.
(Pictured l-r) Appalachian marketing students Molly Caldwell, Peter Marino, Brooke Cohn, Shelby Weatherman, Trevor Fillingame, Kate Bennett, and Kathryn Poslusny participate in annual AMA conference.
The students are members of the Appalachian chapter of AMA, and attended the conference to learn best practices in chapter management techniques and to network with their peers.
Appalachian marketing professors Pia Albinsson and David Shows led the group of 7 students. Albinsson serves as faculty advisor to the group.
"It was an invaluable experience for our students," said Albinsson. "We had the opportunity to learn from top experts in the field, and we made great connections."
The students heard from speakers including Michael McCullough, brand architect for The Miami HEAT, and Jia Jiang, Founder of FearBuster, author of Rejection Proof: How I Beat Fear and Became Invincible Through 100 Days of Rejection.
The group also participated in conference exhibits as well as competitions during the trip. Members of the group competed in chapter planning, website, t-shirt, sales, role-play certification and market strategy contests.
"All of the students who attended now have a new found motivation for learning and participating in AMA. " said chapter president Kathryn Bennett. "It has allowed us all to see how extraordinary our club can be and how our chapter can add value to the Walker College of Business and ASU as a whole."
About AMA
The American Marketing Association is a professional association for individuals and organizations leading the practice, teaching and development of marketing knowledge worldwide. The principle role of AMA is to serve as a forum to connect like-minded individuals and foster knowledge sharing, provide resources, tools and training and support marketing practice and thought leadership around the globe. For more information, about Appalachian's AMA chapter, visit ama.appstate.edu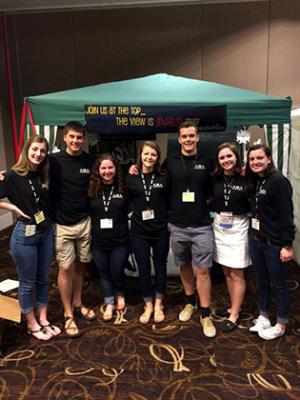 Tags: