Nine Appalachian State University students presented their research at the 2018 Annual Conference of the Society for Industrial and Organizational Psychology (SIOP) in Chicago.
SIOP is a professional organization that promotes the science, practice, and teaching of industrial and organizational psychology. The 33rd annual conference took place April 19-21, 2018. Presenting students included:
Cheryl Nickel, Lorin Farr and Hannah Booth presented a pre-conference workshop entitled How to Use Advanced Technologies for Employee Selection (and Feel Good About It!)
Hannah Booth and Nkem Obi-Melekwe presented on Reactions to Social Media Screening: A Different Story for Minority Applicants.
Cameron Brown shared research on Using Natural Language Processing to Measure Psychological Constructs.
Amanda Dixon, Amanda Ross, Jessica Swets and Stephanie Jeffer presented on Where Do We Stand? Alternative Methods of Ranking I-O Graduate Programs.
Additionally, Cody Rusher and Cheryl Nickel were selected to attend the SIOP Master's Consortium.
"The HR Science Research Team and IOHRM will be well-represented in Chicago," said Appalachian Industrial-Organizational Psychology and Human Resource Management Program (IOHRM) Program co-Director Shawn Bergman. "Appalachian has one of the best IOHRM programs in the country!"
IOHRM students are unique in that they are part of a program that links both the College of Arts and Sciences and College of Business and take classes in both the Departments of Psychology and Management.
"The SIOP is the field's premiere academic conference," said Department of Management Assistant Chair Heather Dixon-Fowler. "Our department does a lot to support these students, their coursework, and their research programs."
About the IOHRM program at Appalachian and WCOB's Management Department
The Industrial-Organizational Psychology and Human Resource Management Program is an Interdisciplinary Master of Arts degree, offered by the Departments of Psychology and Management, to prepare professionals for work in business, industry, and government. As part of the only cross-disciplinary master's degree program in the nation, students have the unique opportunity to leverage the application of I-O Psychology to business. Learn more.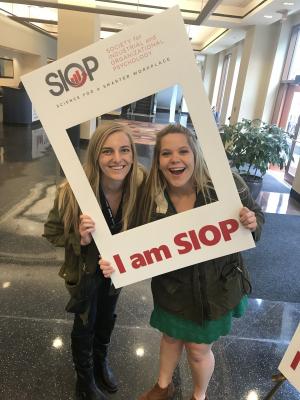 Tags: