Two Walker College of Business students represented Appalachian at the 17th National Collegiate Sales Competition (NCSC), April 7-10, 2015 at Kennesaw State University in Kennesaw, GA.
Sarah Handy and Robert 'Bobby' Harrell were among more than 140 undergraduate and graduate students that competed in the event.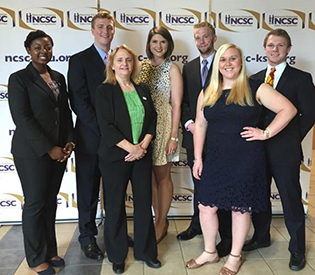 The two traveled with marketing professor Bonnie Guy, fellow marketing students Jacob Gerkin and Gage Johnston, and graduate mentors Kacey Griffin and Brittany Thurman. Pictured, from left, are Griffin, Johnston, Guy, Handy, Gerkin, Thurman and Harrell.
"The competition helped me understand more about business practices, and it was a great tool to prepare me for my career after graduation," said Harrell. "For example, I learned a lot about the importance of a set intro script with adaptation throughout a sales call."
The students were selected from a pool of interested juniors and seniors who were competitively screened for the two spots.
"This was our second year participating in NCSC, and we improved our standings significantly from the 2014 competition," said Guy, an associate professor in the Department of Marketing in the Walker College of Business. "Our presenting students received positive feedback on their pitches, and all of our students in attendance received interest from many of the 53 recruiting companies at the event."
Allison White '03, senior account executive at ImpactPlus Apparel and Promotional Products in Charlotte; Charles Eyler, agency president at Charles Eyler and Associates, Nationwide Insurance in Boone; and marketing professors James Stoddard and David Shows served as coaches to prepare the competitors for the event.
The college also sent competitors to the 2014 event.
Inaugurated in 1999, the National Collegiate Sales Competition (NCSC) is the largest and oldest sales role-play competition in existence. Its mission is to enhance the practice and professionalism of the sales profession. Each year, the NCSC hosts the top collegiate sales talent and sales faculty from the most elite university sales programs in North America. Sales students are provided a venue for sharpening their sales skills in a highly competitive environment and networking with their peers and sales faculty from across the United States. NCSC corporate sponsors have the opportunity to network with and preview the elite talent and greatly contribute to their education and careers and in turn make a great investment in the future of the sales profession. For more information, visit www.ncsc-ksu.org.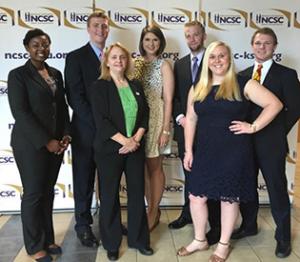 Tags: