Students, faculty, and staff were welcomed back to the Walker College of Business on Monday, August 17 with a reception in Peacock Hall. This gave students a chance to catch up with friends, meet administrators, and get settled back into the business building.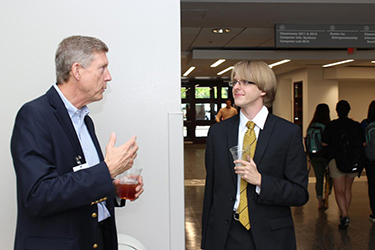 However, this year they were welcomed with a new and improved learning space.
A complete remodel of the second floor had been finished just in time to welcome students back to the college for the fall 2015 semester.
While faculty handed out free t-shirts, agendas and food, the event allowed for the students to view and enjoy the new space.
The renovations, which took place during the summer, included updates such as built-in charging stations, new display cabinets, a student club counter, writeable and display surfaces and several other modernized upgrades.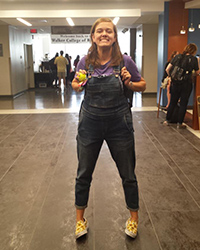 Upon walking in the door, several students immediately noticed the update and comments such as "Dude, I'm really diggin' the new space" were heard throughout Peacock Hall.
Pictured, MS of Accounting student Cara White, stated that she was "feeling confident and wore overalls because it is going to be an 'over all' great year."
While updates including paint, additional digital signage and exterior maintenance are still in progress, the continual success is apparent and will continue to enhance every business student's experience at Appalachian State University.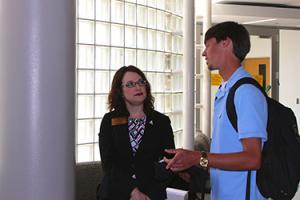 Tags: