BOONE, N.C. — Solar-powered, smart picnic tables were installed on Peacock Hall's first-floor patio, providing extra form and function for learners on Appalachian State University's campus.
A gift from the Appalachian State Renewable Energy Initiative (REI), a student-led, student-funded organization that installs renewable energy and energy efficiency projects on campus, the three tables feature charging stations — including wireless charging, USB ports and regular outlets — and one of the three is compliant with the Americans with Disabilities Act (ADA) Standards.
The REI students worked with Appalachian's Chief Sustainability Officer Dr. Lee Ball and Office of Sustainability Data and Assessment Specialist Jim Dees, as well as members of the Walker College of Business Walker Impact Network to create the plan for the tables.
A ribbon-cutting celebration is tentatively set for Monday, April 17, as part of Appalachian's Earth Month observance.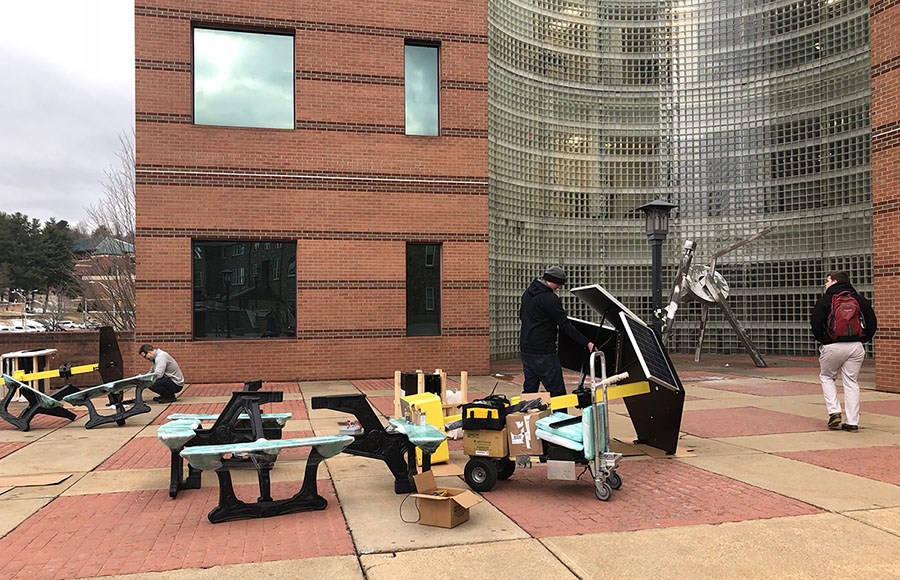 REI students assemble and install solar-powered picnic tables on the first-floor patio of Appalachian's Peacock Hall. Photo by Samantha Fuentes
About Sustainability at Appalachian
Appalachian State University's leadership in sustainability is known nationally. The university's holistic, three-branched approach considers sustainability economically, environmentally and equitably in relationship to the planet's co-inhabitants. The university is an active steward of the state's interconnected financial, cultural and natural resources and challenges students and others think critically and creatively about sustainability and what it means from the smallest individual action to the most broad-based applications. The university offers both undergraduate and graduate academic degree programs that focus on sustainability. In addition, 100 percent of Appalachian's academic departments offer at least one sustainability course or course that includes sustainability, and all students graduate from programs that have adopted at least one sustainability learning outcome.