Participants of the 2016 Martha Guy Summer Institute (MGSI) for future business leaders recently attended the Dixon Hughes Goodman (DHG) quarterly client meeting, held at the Collider in Asheville, NC. DHG business development executive Adrian Vassallo, an Appalachian State University alumnus, hosted the students.
MGSI provides a unique summer experience to selected high school students interested in pursuing a college degree in business. Participants explore disciplines within business, interact with regional business leaders and develop leadership and professional behavior skills needed to be successful in business careers.
During the event held at the Collider, participants had the opportunity to network with experts from the National Oceanic and Atmospheric Administration (NOAA) climate research and data facility; hear about sustainable business practices, especially as they relate to accounting and reporting, from Appalachian Sustainability Fellow Tammy Kowalczyk. The group then visited the AB Tech Small Business Incubator. Walker College BAC member and Appalachian alumna Jill Sparks hosted the students at AB Tech.
The 2017 application for participation in MGSI is available online. For more information about the program, please visit the MGSI website.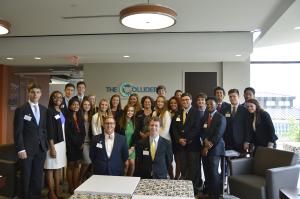 Tags: