As founder and CEO of Vixster, Zak Ammar is working to provide an on-demand and subscription trash + recycling service. In addition to aspiring to run a profitable business, Ammar hopes to have a positive impact on his community and the environment.
Through Vixster, waste and recyclables are collected by community members who, in turn, supplement their income by performing the service. Even better, five percent of revenue goes to sustainability efforts in the community.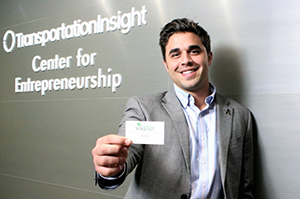 Ammar was profiled in the 2015 Business Leaders Magazine feature Creating Business, Developing Individuals.
The Transportation Insight Center for Entrepreneurship (TICFE) at Appalachian State University helps students and alumni launch successful businesses and enhance their future prospects, as well as boosting the region's economy. In doing so, the center, along with the Walker College of Business, develops student ideas that are becoming profitable companies...
MBA student Zak Ammar, from Houston, Texas, began his company Vixster as part of a social entrepreneurship competition. Vixster has since turned into an operational business and is constantly adapting processes to make it more efficient. "Erich Schlenker has been an incredibly important figure in my start-up process. He is a fantastic role model, mentor and life coach," explained Ammar.
Vixster is a tech company that solves the problem of Trash and Recycling in the High Country. Operating in "The Sharing Economy," Vixster pairs those who have trash and recycling needs with those nearby who are willing to pick it up and take it to the convenience center, for a fee. Vixster is a digital platform that offers peer-topeer, on-demand services to solve the community's trash and recycling needs. "More than 60% of our landfill is recyclable material," said Ammar. "Vixster plans to reduce that."
Ammar will earn his MBA from Appalachian State University with a concentration in Supply Chain Management in 2016. Having honed his skills through his association with the Collegiate Entrepreneurship Program, Executive Impact at Appalachian State, Habitat for Humanity, and previous experience with Texas State University, Ammar executes all of Vixster's core business functions and counts leadership, financial analysis, operational efficiency, vision, and project management in his skillset.