Thirty five students at Appalachian State University have been inducted into Beta Gamma Sigma, the international business honors society for AACSB-accredited schools.
Founded in 1913, Beta Gamma Sigma maintains more than 600 chapters with more than 875,000 members worldwide. Appalachian's chapter, established in 1977, is frequently named a Highest Honors Chapter, the highest level of recognition that a chapter can earn as part of the society's Chapter Honor Roll Program.
Related: Appalachian's Beta Gamma Sigma chapter earns highest honors
Following are the names and majors of the Spring 2020 inductees.
Master
Maira Compagnone, Indus-Org Psy Human Res Mgt and Interdisciplinary Business
Jonathan Huggins, Interdisciplinary Business
Megan MacDonald, Sustainability Analytics and Business Analytics
Kyle McMearty, Interdisciplinary Analytics and Business Analytics
Senior
Wendell Addy, Computer Information Systems
Samuel Crouse, Finance and Banking
Joshua Lail, Accounting
Obadja Ludwig, Finance and Banking
Zoe McDaniel, Management
Patrick Osborne, Computer Information Systems
Jessica Price, Accounting
Willard Robinson, Environmental Eco & Policy
Andrew Smythers, Finance and Banking
Casey Soles, Management
Junior
Noah Bilodeau, Computer Information Systems and Supply Chain Management
Madison Browne, Finance and Banking and Risk Management and Insurance
Danielle Carter, Marketing and Management
Kaylee Combs, Digital Marketing
Audrey Emerson, Marketing
Lauren Frazier, Accounting
Luke Halodik, Accounting
Jordan Kota, Accounting
Veronica McCurdy, Finance and Banking
Maddisen Robinson, Supply Chain Management
Christina Schwendig, Computer Information Systems and General Theatre
William Scott, Marketing and Risk Management and Insurance
Jonathan Slater, Finance and Banking and Risk Management and Insurance
Joshua Sweeny, Finance and Banking and Risk Management and Insurance
Sophomore
Cassidy Allen, Sales Marketing
Brandy Crump, Finance and Banking and Risk Management and Insurance
Samuel Gagnon, Marketing and Supply Chain Management
Nicholas McAllister, Marketing
Jessica Murray, Accounting
Nicole Tiseo, Sales Marketing
Andrew Williard, Environmental Economics & Policy
Learn more about Beta Gamma Sigma, betagammasigma.org, or view past Appalachian inductees at business.appstate.edu/photos.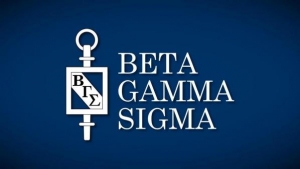 Tags: