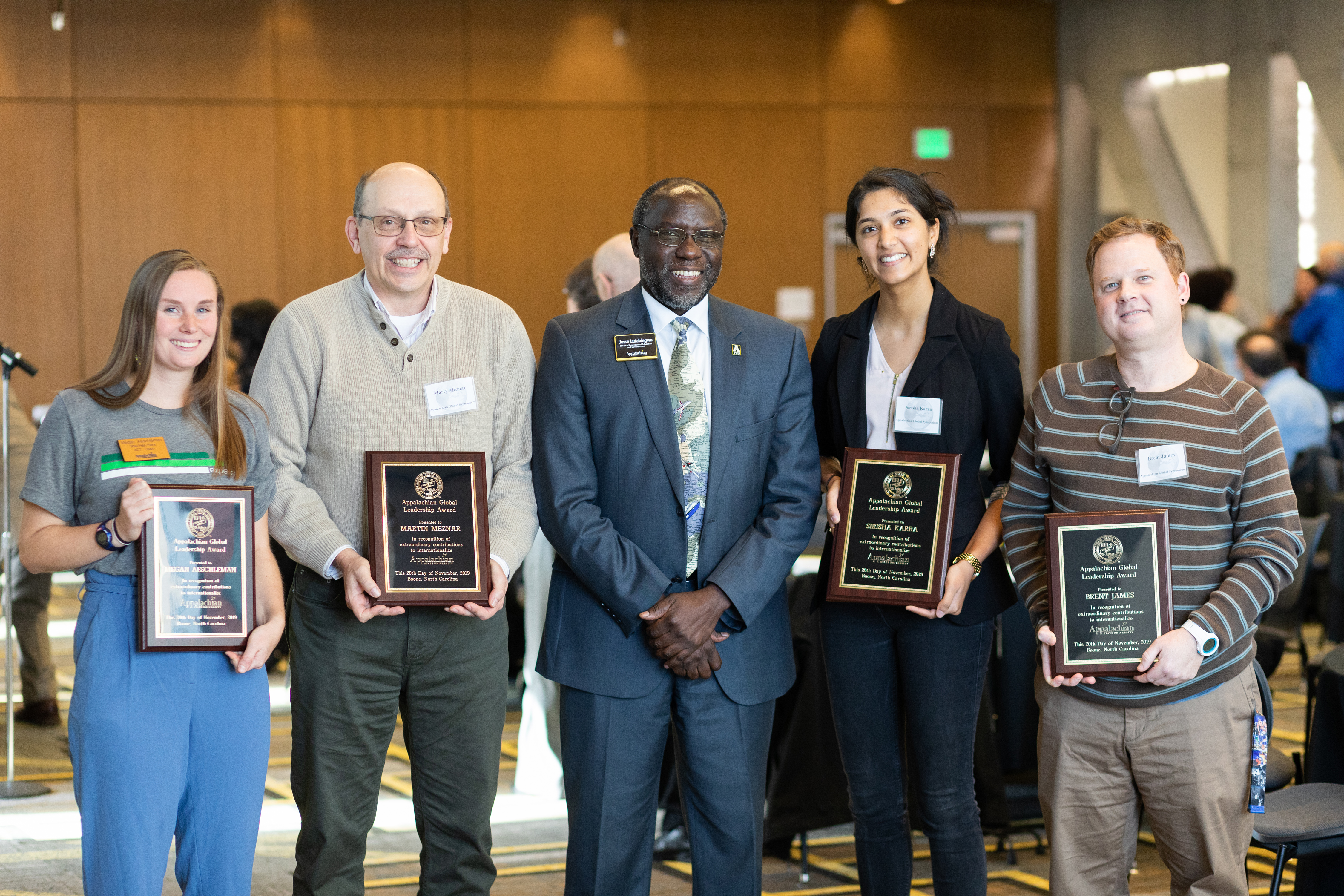 Six members of the Appalachian State University Community and an Appalachian alumna were recognized with the 2019 Global Leadership Awards and Global Engagement Award as part of the university's annual Appalachian Global Symposium, hosted by Appalachian's Office of International Education and Development Nov. 20.
Among those honored are Walker College of Business Associate Dean for Global Engagement Marty Meznar, who earned the Staff Global Leadership Award, and senior management major Sirisha Karra, who earned the Local to Global Leadership Award.
Dr. Martin Meznar
Associate dean for global and civic engagement
Staff Global Leadership Award
The 2019 Staff Global Leadership Award was presented to Dr. Martin "Marty" Meznar, associate dean for global and civic engagement in the WCOB.
Meznar has initiated, developed and executed global opportunities for thousands of students during his time at Appalachian. Thanks to his advocacy and effort, each student in the college fulfills a global issues requirement ensuring that global competence is a central feature in every student's experience.
During his tenure, he has implemented programs to Brazil, Thailand, Malawi, Cuba and other countries, and, this year alone, was responsible for overseeing faculty-led programs to 10 countries on five continents.
Recognizing that all students may not have the means and ability to participate in an education abroad program, Meznar finds other ways to ensure that every student has the opportunity to have a global experience in the college. He has hosted and supported numerous international visitors and visiting scholars from all around the world to support global learning and bring the world to Appalachian and Walker College.
Sirisha Karra
Senior management major
Local to Global Leadership Award
The 2019 Local to Global Leadership Award was presented to senior management major Sirisha Karra, of Cary. The award recognizes an Appalachian student who has engaged with the local community in an innovative way and is prepared to expand their work on a global level at an international location.
Karra is the co-founder of a local branch of the Chinmaya Organization for Rural Development (CORD), a nonprofit organization that works with rural villages of India to support sustainability, rehabilitation, women's empowerment and self-help. She founded the CORD branch while in high school and has continued to work with the branch during her time as a student at Appalachian.
Under her leadership, CORD raised $1,000 at a fundraiser to support girl's education in India. Funding through the Local to Global Leadership Award will enable Karra to expand her work when she travels to India to implement CORD activities in the coming year.
The other recipients are Dr. Brent James, senior lecturer in the Department of Languages, Literatures and Cultures; Megan Aeschleman, a senior middle grades education major from Oak Park, Illinois; Walker Ballard, a senior music education and languages, literature and cultures–German double major from Wilmington; Philip Gadzekpo, a graduate student in Appalachian's doctoral program in educational leadership from Ghana; and Dr. Kimberly Green '88 '01, assistant professor of communication sciences and disorders and chief diversity officer in the College of Health and Human Services at Western Kentucky University (WKU).
For more information about these and the other award winners, as well as the Appalachian's Global Symposium, visit https://international.appstate.edu/get-involved/global-symposium.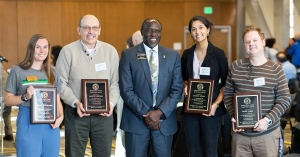 Tags: