Business has positively transformed the human experience over the centuries in ways that are difficult to fathom. Unfortunately, much of the benefit created for society has come at the expense of the environment. A better standard of living is needed for the majority of the world population, but how can development continue without causing irreversible damage to the earth?
The 2016 Global Opportunities Conference: Problems to Possibilities, will explore the role that innovative business and pioneering entrepreneurs can take in addressing pressing environmental and social issues. The conference will include high-level speakers on business and sustainability, student stories of innovative and sustainable thinking abroad and a luncheon panel discussion to provoke conversation on the conference theme.
Keynote Address: Erin Meezan, Interface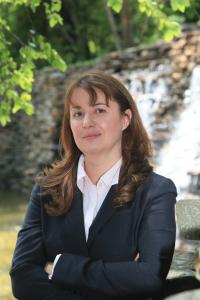 The 2014 Sustainability Leaders Report ranked Interface 3rd among companies leading the way on sustainability – right after Patagonia. For a traditional carpet company turned sustainable to make this list is testament to the inspiring vision of Founder and Chairman Ray Anderson. Since this change in vision in 1994, Interface has reduced waste to landfill by 91%, cut down water intake by 86% and greenhouse gas emissions by 73%. Currently, 50% of Interface's total raw materials are recycled or bio-based and 45% of their energy use comes from renewable sources. Mission Zero, their visionary goal, is to source 100% of energy needs from renewable sources by 2020. This Interface story is part of the documentary, So Right, So Smart.
As Vice President of Sustainability for Interface, our keynote speaker, Erin Meezan gives voice to the company's conscience, ensuring that strategy and goals are in sync with the aggressive sustainability vision established almost 20 years ago. She leads a team that provides technical assistance and support to the company's global business, addressing sustainability at all levels– from operations and management, to employees and customers, and in policy forums. And she also keeps a finger on the pulse of the company's transformed culture, a by-product of sustainability thinking that has been critical in driving innovation and retaining and attracting talented employees. Erin and her team are focused on nourishing and reinforcing the unique culture, and also on documenting its evolution.
The 2016 Global Opportunities Conference: Problems to Possibilities will be held on Friday, April 8 at 9 am in the Plemmons Student Union. To join us, please register.
The Global Opportunities Conference is presented by the Walker College of Business at Appalachian State University with additional support provided by University College, the Goodnight Family Sustainable Development Department, and James E. Holshouser Ethics.