Appalachian State University will offer a new course in storytelling and social media beginning Fall 2017. View the brochure.
The course will examine how the explosive growth of social media has become a strategic priority for small and large companies alike. Additionally, the class will allow undergraduates the opportunity to evaluate marketing as a course of study before declaring a major.
Brand storytelling helps organizations attract and retain customers and stirs emotions in potential customers leading to sustainable brand relationships.
Students who enroll in the new marketing course will examine the basic concepts of storytelling and the linkage of these stories to social media vehicles.
The course (MKT 2530) is offered through the Marketing Department in the Walker College of Business as a Marketing 2000 level class and will fulfill one of the free electives (three of six hours) available to all students regardless of major.
Freshmen and sophomores are especially encouraged to register. Seating is limited.
About the Instructor
Charles Ciaramita (also known as "Mr. C.") is an adjunct lecturer in the Walker College of Business Department of Marketing. Prior to joining the faculty at Appalachian, Mr. C navigated a successful career in the food industry in a range of positions including Division G.M., director of major distributor accounts, director of marketing, regional sales manager, and director of corporate strategic planning and acquisitions. He has been awarded two US patents, which are licensed to the world's largest privately-held food industry scale manufacturer. He is currently seeking three additional patents for US protection. Mr. Ciaramita earned his bachelor's in marketing and an MBA with concentrations in marketing and finance from Creighton University.
Why major in marketing?
Marketing is an essential business function in for-profit, not-for-profit, and public sector settings. Marketing majors learn functional business knowledge and gain hands-on experience with marketing principles through internships, participation in regional and national competitions and by networking with industry professionals. There are two marketing paths in the Walker College of Business Department of Marketing, a marketing major with a concentration in general marketing or a marketing major with a concentration in professional selling (new in 2016), which prepares graduates to begin careers with a solid foundation in business and specialized knowledge in sales.
After Graduation
Recent employers of Appalachian Marketing majors include CBS Sports Radio, E&J Gallo, RalphLauren, State Farm, Disney, GEICO, Red Ventures, and Target. Some graduates stay at Appalachian for the one-year Master of Business Administration degree.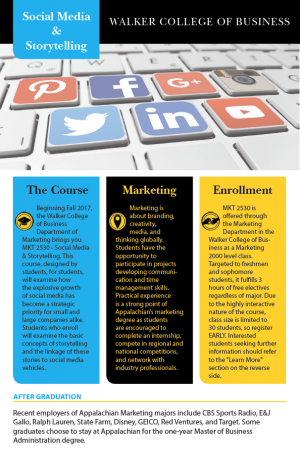 Tags: