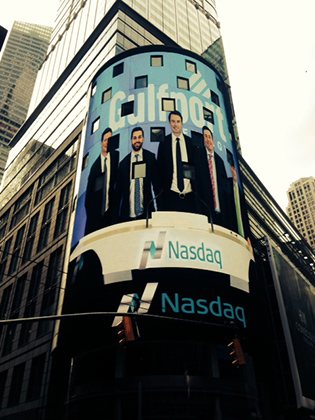 William "Billy" See, 2008 Appalachian graduate and Bowden Investment Group (BIG) alumnus, is a financial analyst for Scotiabank in New York who was recently depicted larger than life size in Times Square. The picture, shared by Walker College of Business Finance Professor Delbert Goff who advises BIG, features See front and center with Gulfport Energy project colleagues.
Goff sent the image to his current BIG students, asking "Which of you will send me a similar photo in seven years?" He added, "If you are up to the challenge, you could be in a similar position."
BIG is a highly competitive, 12-member student group that manages a real investment fund through coursework in the Walker College of Business.
The photo was taken at the NASDAQ Market Site the week of April 20. See participated in the ringing of the NASDAQ opening bell because of his work on an equity offering for Gulfport Energy.
About the Bowden Investment Group
A student managed investment fund was established in the Department of Finance, Banking and Insurance in January 2000 and named in in honor of Dr. Elbert V. Bowden in September 2001 to recognize his outstanding work and his many contributions as a faculty member at Appalachian. The Bowden Investment Group provides an opportunity for students to gain hands-on investment experience as part of an investment management course. Financial donations from alumni, faculty, businesses and other supporters have added to the fund's total net assets. Students analyze investment opportunities and manage a real investment portfolio, with the goal of a return on invested funds that exceeds the return on the S&P 500 Index. http://big.appstate.edu/
Tags: