On select days during finals, students can stop by Beans 2 Brew in Peacock Hall for a free cup of coffee, on the dean.
The Spring 2019 Beans from the Dean dates are: May 3 and May 6-9.
The free coffee will be available from opening until 10:00am, while supplies last. Beans 2 Brew will remain open during regular business hours.
"As you begin preparations for your final exams, I wish you the best of luck and a safe and happy break," said Walker College of Business Dean Heather Norris. "On behalf of the business faculty, staff and administration, enjoy a cup of Beans to Brew on us!"
About Beans 2 Brew
Beans 2 Brew provides all business majors the opportunity to be involved in a real business. The idea was first conceived and put to action by a group of students from the Association of Entrepreneurs (ASE). Over the years, the coffee shop has grown from a mere table by the stairwell door to a flourishing business with a permanent stand and mini kitchen. In 2016, Beans 2 Brew expanded its horizons by incorporating clubs beyond ASE, including but not limited to the Supply Chain Management Club, Economics Club, and the American Marketing Association. In addition to staffing the coffee shop during business hours, all the clubs involved specialize in their particular field to contribute to the growth of Beans 2 Brew.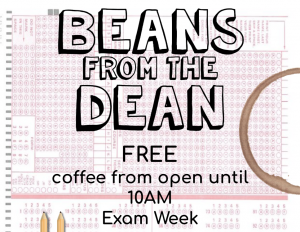 Tags: