The Walker College of Business successfully held its annual Business Club Expo Tuesday, August 25. The expo featured clubs such as Walker Fellows, DECA, Information Technology, Appalachian Supply Chain Club, and several other clubs that are supported by the College of Business.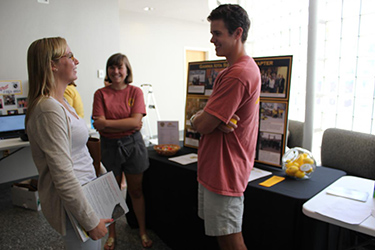 During the event, each club had the opportunity to set up an informational booth, while club members and leaders had the chance not only to answer any questions but also to recruit new members. The expo continually serves as a primary way that club leaders and members can encourage students to join and get involved.
"Club Expo is beneficial for Pi Sigma Epsilon because it gets our name out there," said Justin Ratte, a member of Pi Sigma Epsilon. "It's also really beneficial to the students because it shows them which clubs can appeal to their individual interests, especially in the college of business."
The expo is only one of the many events in which cob club members participate.
"Through community service activities and fundraisers, the networking opportunities gained from being a part of a club are unmatched," said Jack Sales, an officer of the MBA Executive Impact Club.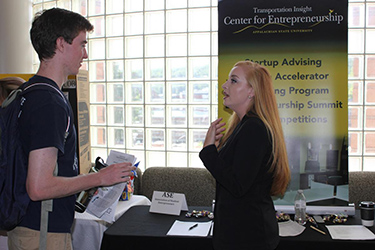 Whether it's through trips to local businesses, skill-based workshops, or service projects, clubs are continually coming up with ways to interact with the community and with the College of Business.
View photos of the event online.
The clubs are not only for business students. The goal of every club is to further the experience, education, and professional opportunities available to all Appalachian students, regardless of major.
"Business clubs are not just for those who major in topics covered by the business school, but for anyone who is passionate about the club's mission and goals," said AIESEC member Brittni Thomas. "We strive to be all-inclusive and I think everyone has something to gain from joining."