Five students from the Walker College of Business attended the Beta Alpha Psi Southeast Regional Meeting in Atlanta, GA Feb. 27-28. During the conference, the students made presentation in the event's "Best Practices" competition in two categories.
Molly Cogburn and Hannah Tennyson placed second among 12 teams in the "Financial Literacy" category. Their presentation focused on the chapter's upcoming service project on budget training for foster children developed by Molly and Megan Meyer. The students' efforts earned the Appalachian club a $250 award.
Jeff Cox, Christopher Carpenter and Zach Lachance presented in the "Effective Operations" category. Their presentation focused on the ASU Principles Dinner and the Junior Year Experience.
"Although this was our first conference competition, the students worked hard and did a great job presenting," said Appalachian Professor of Accounting Tracy Reed, who serves as faculty advisor to the Beta Alpha Psi chapter and accompanied the students to the conference. "They gained confidence, networked and made numerous useful connections."
The students plan to attend the Annual Beta Alpha Psi meeting in Milwaukee in August.
About Beta Alpha Psi
Beta Alpha Psi is an international honorary organization for financial information students and professionals. The primary objective of Beta Alpha Psi is to encourage and give recognition to scholastic and professional excellence in the business information field. This includes promoting the study and practice of accounting, finance, and information systems; providing opportunities for self development, service, and association among members and practicing professionals; and encouraging a sense of ethical, social, and public responsibility. More information can be found online at http://accounting.appstate.edu/beta-alpha-psi.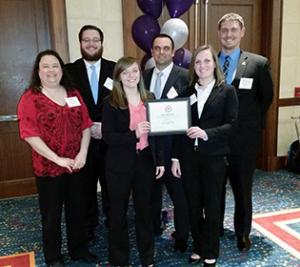 Tags: