Dr. Shawn Bergman, director of the Walker College of Business' professional education program, and Dr. Tim Ludwig, professor of psychology in the College of Arts and Sciences, have received funding from the National Institute of Occupational Safety and Health (NIOSH) to continue their research in behavioral safety as an efficacious approach to reduce injury in industrial settings.
This line of research builds on the success of the Appalachian Safety Summit and is a four-year pilot collaboration with NIOSH, Eastman in Kingsport, TN, and Costain, a construction company in Liverpool, England.
Drs. Bergman and Ludwig are both faculty members in the Industrial-Organizational Psychology and Human Resource Management (IOHRM) graduate program at Appalachian State University and have teamed up with fellow IOHRM faculty member Dr. Yalçin Açikgöz and IOHRM graduate students Matt Laske, Lauren Ferber, Phillip Hinson, Tara O'Neil, Soundarya Kanthimathinathan, Bill Griffin and Maira Compagnone to form the Safety Analytics Team.
The team is examining how analytics can be used with Health, Safety and Environment (HSE) data to better direct efforts to keep people safe in their jobs.
The project is the first formal attempt by safety researchers to cross behavioral safety and other safety management systems with a strategic and systematic application of data mining and analytics techniques at a corporate enterprise level. The lessons learned from this study will be shared across industries and lay a foundation for the use of data analytics to manage industrial safety.
This pilot project is a collective result of Dr. Ludwig's long-time work at the Cambridge Center for Behavioral Studies and Dr. Bergman's engagement with Eastman, East Tennessee State University and their IdeAcademy.
The IOHRM faculty's continued focus on HSE issues represents Appalachian's growing focus in the area of workforce sustainability.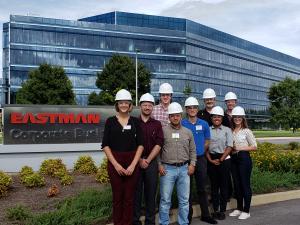 Tags: