A cross-disciplinary team of graduate students from Appalachian State University's Walker College of Business recently participated in the Aspen Institute's Business & Society International MBA Case Competition.
Appalachian was one of just 25 schools worldwide invited to participate in the 2017 event. Now in its eighth year, the competition encourages the next generation of business leaders to think innovatively about the role of business in solving the world's most complex and pressing challenges. This is the first time that Appalachian has participated.
On-campus competitions determined first place school winners, whose case analyses were then reviewed by an academic panel assembled by the Aspen Institute to determine five finalist teams.
Appalachian's first place school winners are MBA students Ethan Downs and Trey Edgerton, MS in Industrial-Organizational Psychology student Ryan Olsen, and MS in Accounting student Micah Miller.
While the students didn't earn a trip to the finals this year, Accounting Professor Tammy Kowalczyk said that they very effectively "demonstrated knowledge about sustainable business and the concept of "Business for Good."
The case competition participants were challenged to enhance the social impact of IBM's renowned Corporate Service Corps (CSC) and tasked with developing practical strategies for implementation.
"The Case Competition celebrates a growing movement—and a growing number of business leaders—who are stepping up, speaking out, and acting in ways that strengthen our capitalist system while also making the world a better place," said Claire Preisser, Associate Director at the Aspen Institute Business & Society Program.
The Aspen Institute Business and Society Program, founded in 1998, works with business executives and scholars to align business decisions and investments with the long-term health of society—and the planet. Through carefully designed networks, working groups and focused dialogue, the Program identifies and inspires thought leaders and "intrapreneurs" to challenge conventional ideas about capitalism and markets, to test new measures of business success, and to connect classroom theory and business practice. For more information, visit www.aspenbsp.org.
About Sustainable Business at Appalachian
Appalachian's Walker College of Business is committed to advancing sustainable business practices that promote responsible management of economic, social and natural resources. The theory and practice of sustainable business recognizes that the economy, environment and society (the triple bottom line) are interconnected and interdependent, and strives to enhance the business model so that it can flourish and thrive to benefit future generations. The college offers a sustainable business minor available to business and non-business majors, a bachelor's degree in environmental economics and policy, and an MBA concentration in sustainable business. The programs focus on student engagement, research and community involvement.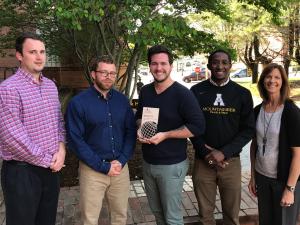 Tags: